In case you're wondering why so many write about the benefits of blogging for business: starting a blog for your business is like infusing a vitamin cocktail into your marketing strategy. Begin publishing awesome content and you will see great results!
And here's the best part. Once the word's out about how great your blog is, it will help your business grow for years to come.
After reading this post, you'll understand why blogging is so important for business, even if you might think there are too many blogs out there.
Specifically, I will address the following questions I get asked all the time:
What is blogging and what are its advantages and disadvantages?
Is a business blog still relevant in 2020?
What are the benefits of blogging for business?
What are some great examples of small business blogs?
I will share a list of 40 benefits of blogging for business and will show you relevant examples for each of them. If you want to understand the advantages of blogging for business, you will love this post.
What does blogging for business mean (and how is it different than regular blogging)?
Let's jump in.
A blog is an online platform where someone publishes content (thoughts, opinions, experiences).
People start a blog for different reasons. Here are the three main types of blogs of the world wide web.
The personal blog
This is an online journal where people write stuff about their life and share their thoughts and personal experiences. The focus of a personal blog is on the author (the blogger).
Here is an example: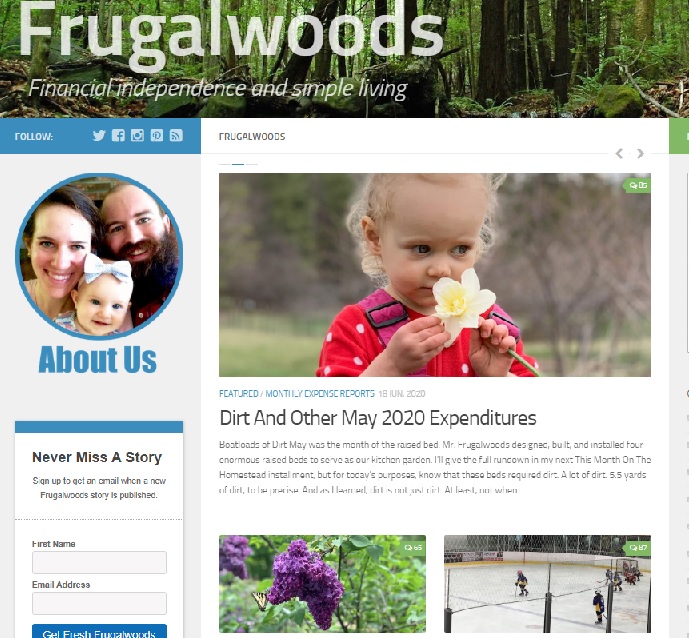 The Frugal Woods blog
Reasons to start a personal blog include:
Sharing information about one's life with friends and family or a bigger audience
Sharing ideas and views
Shaping one's thoughts
Connecting with other people who are interested in the same topics.
Blogs are also started for professional reasons, to showcase the blogger's knowledge and expertise in a field.
The topic blog
This is a type of blog started by a part-time or full-time blogger and it usually features content on one big topic.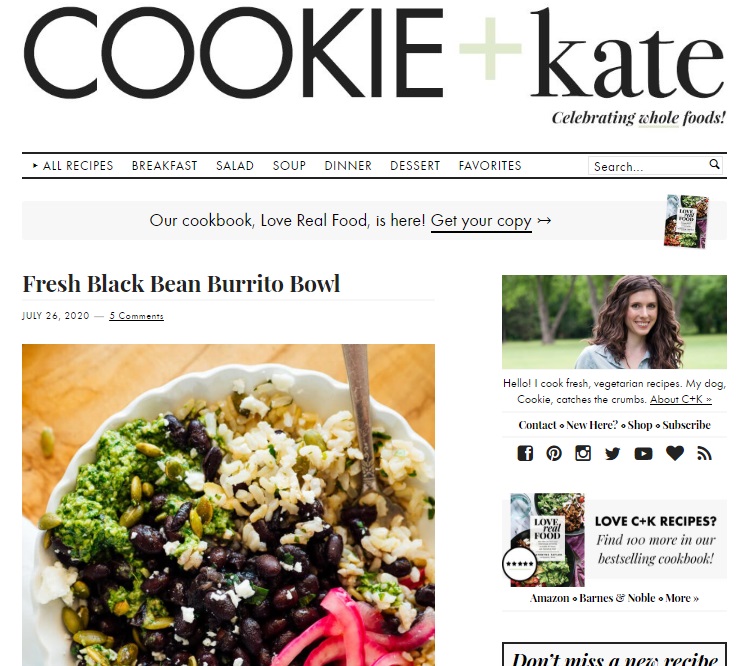 The Cookie and Kate blog
The goal is to eventually start monetizing the blog (with ads, promoting other people's products and services, selling merchandise, etc.). For this reason, in this case, the blog represents the core business.
The Business Blog
A business blog is a marketing tool. It is usually used together with other marketing tools (like social media, email marketing, paid ads, etc.) to grow a company's market share and profit.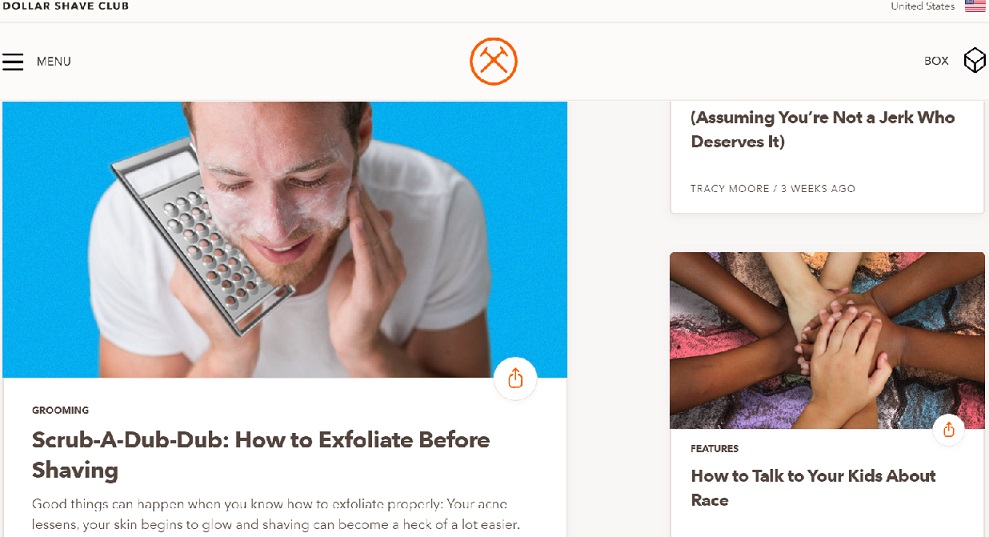 The Dollar Shave Club blog
This type of blog helps any business build a strong brand, reach more people and get more leads. Plus, no industry is too boring for a blog, as long as you are publishing content that your audience finds valuable.
Now let me address the elephant in the room.
Do people still read blogs in 2020?
In the past years, platforms such as YouTube, iTunes and social media networks have become bigger and bigger and they shifted the way people consume content online.
With more time spent on social media, watching videos and listening to podcasts, the question is: are people still reading blogs?
In a nutshell: YES! Now let me explain why.
First: we live in a digital world and still like to read, so we are always searching for the best blogs to read online.
Second: Google.
I don't know about you, but I go straight to Google when looking for more information on a topic. I don't call a friend or go on Instagram and Facebook. A classic Google search is always my first option.
Chances are you are doing the same thing. And so are billions of other people, your clients included! If you don't have a blog, those people will never find you.
But more about this in a moment.
Now let's look at some stats that speak tons about the importance of blogging.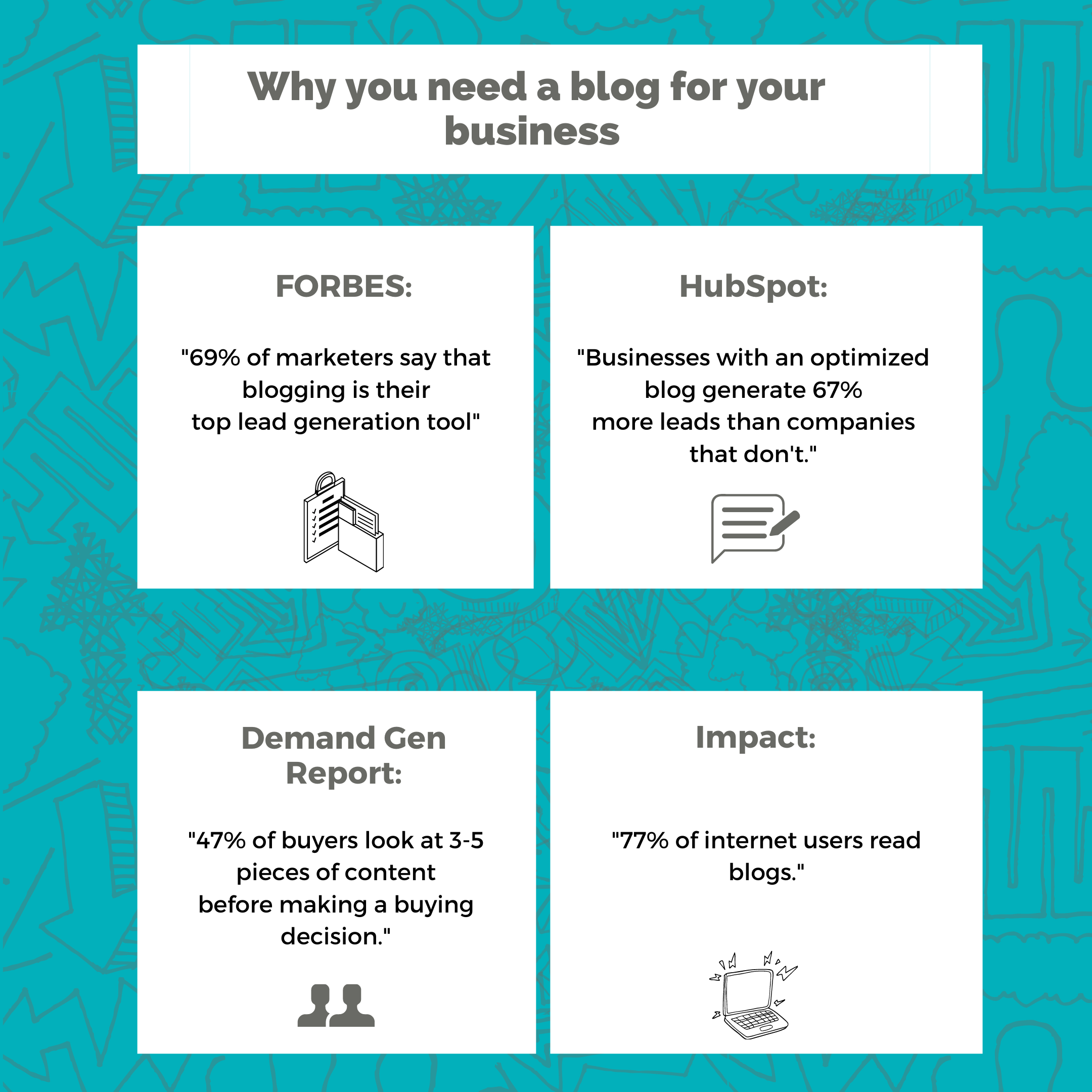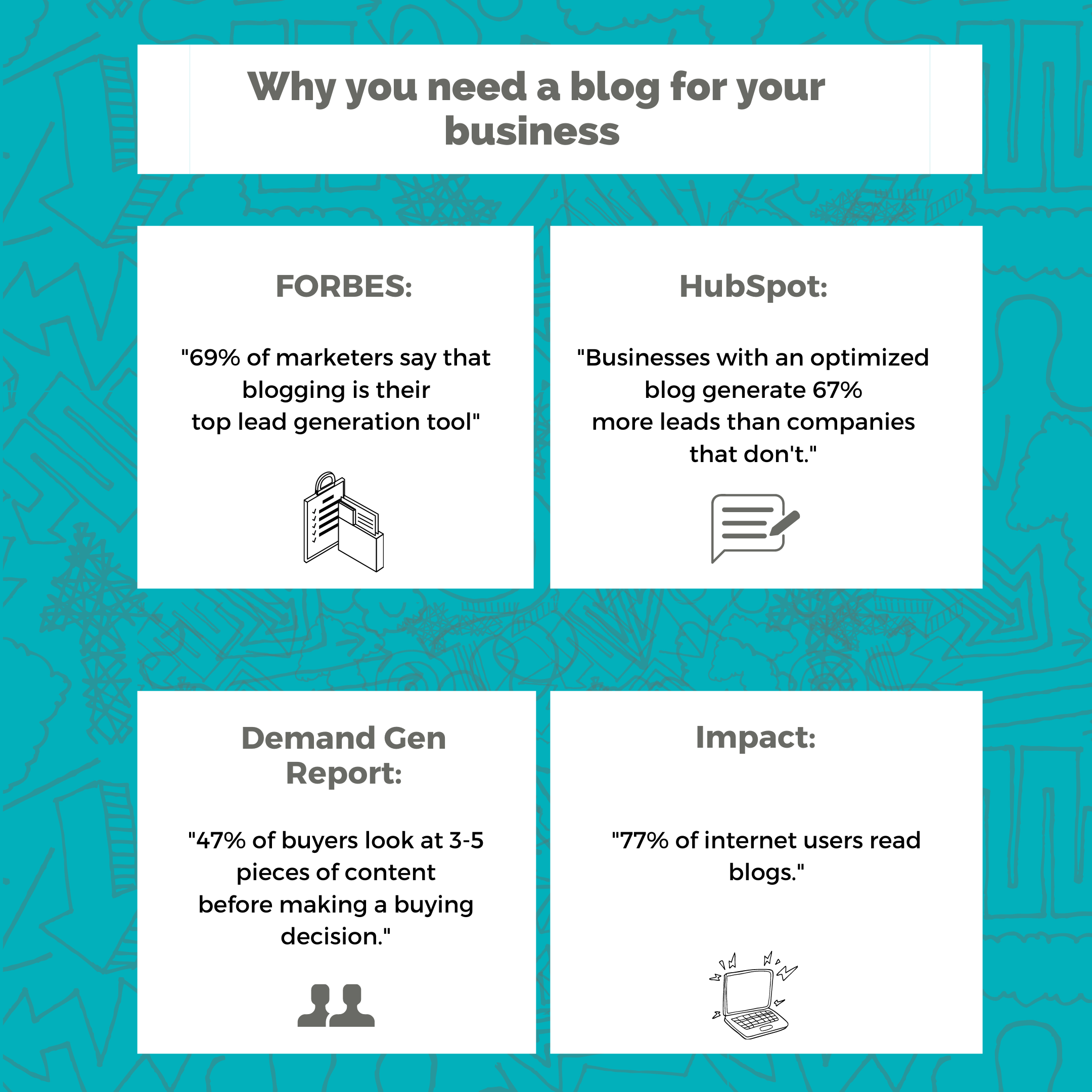 My point here is: if you don't have a blog, your business is missing out on a lot of exposure and leads.
Now, let's take a closer look at all the benefits of running a blog for your business.
The Benefits of Blogging for Business And Marketing
No matter what industry you are in or your company's size and type, blogging will positively impact your business across the board. Gone are the days when the only way to reach your target audience was via a TV commercial or an ad in a printed magazine.
We will go through all the specific ways a blog will help your business reach more people and increase its profit. But first, let's have a look at the three main areas that are positively impacted by blogging:
Marketing strategy
Branding
Sales
Intrigued? Let's see exactly how small businesses can benefit from blogging.
Advantages of blogging: a business blog will strengthen your brand
The benefits of blogging for business include building brand awareness, developing a solid reputation, and establishing yourself as an expert in your industry.
#1. It transforms you into an industry leader
By regularly publishing great content on the blog, you will showcase your company's know-how and results. This will build up your brand authority and position you as an expert in your field.
The team at HubSpot, for example, built their entire business by growing one of the best blogs in the inbound marketing space.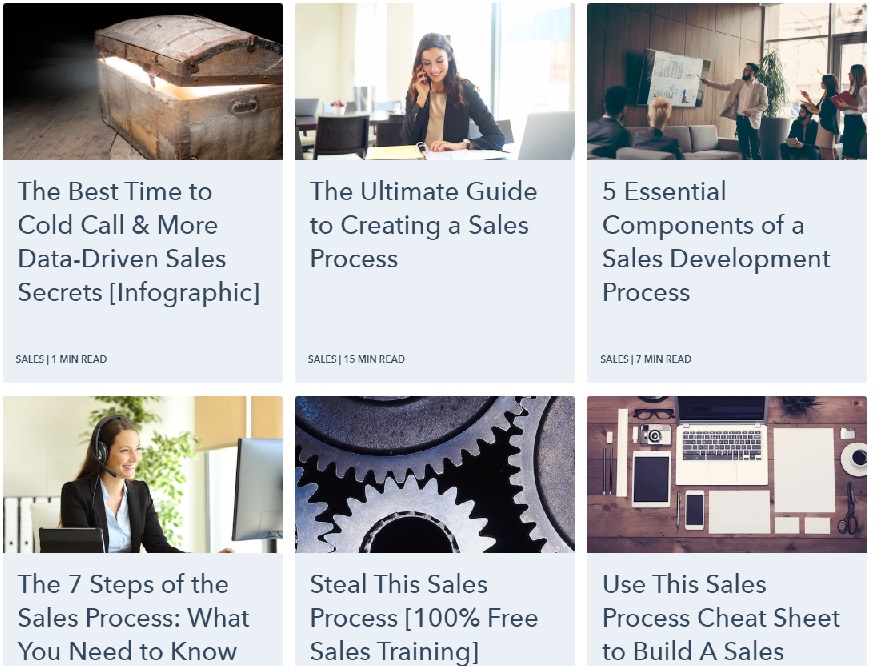 HubSpot's blog page
By regularly publishing quality blog content, your audience will trust you more and more, and will likely be more inclined to buy from you. It will also lead to additional media opportunities, higher word of mouth recommendations, and more partnership opportunities.
All of this translates into increased sales and profits.
#2. It signals your business is active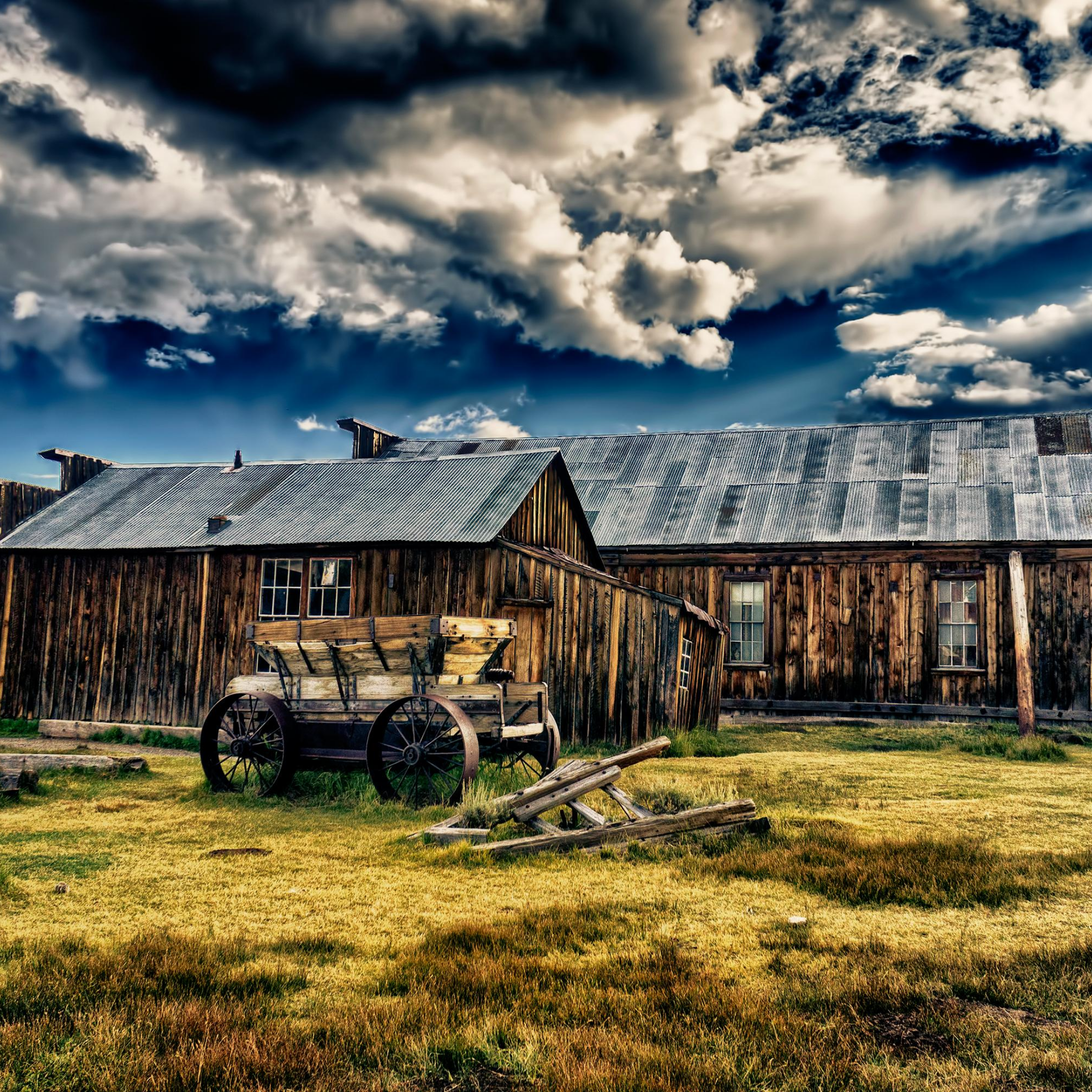 Do you know what's worse than not having a blog? Having one that hasn't been updated in a long time.
If people visit your blog and see that your last post was published in 2018, they will probably feel like walking through a ghost town. Your potential blog readers will leave in search of a better place.
By regularly publishing new content on the blog, you send the message to both new and returning website visitors that your business is fresh.
#3. It increases brand awareness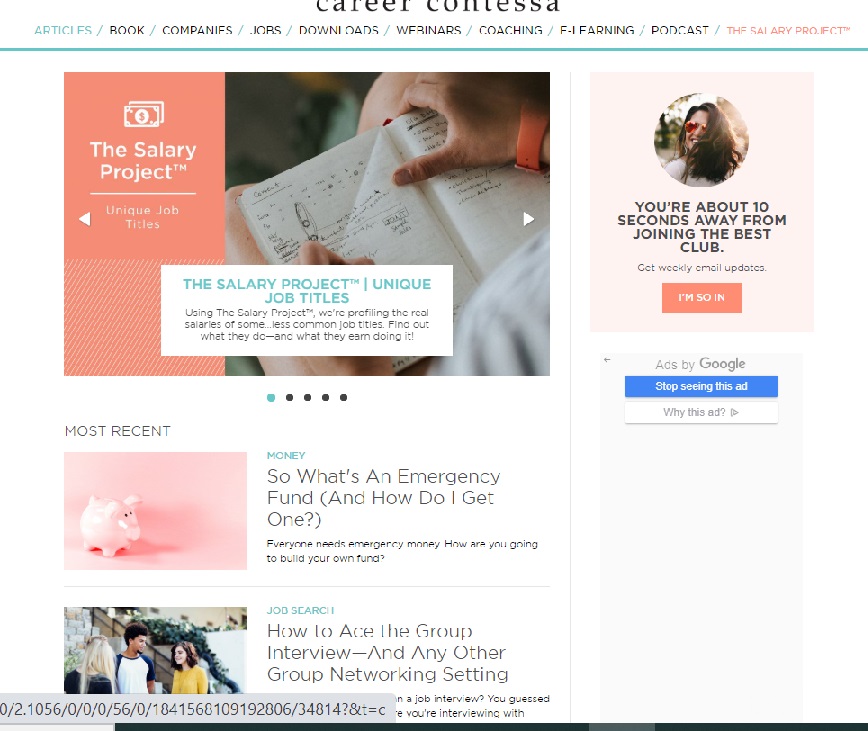 A blog will help your company gain visibility and build brand awareness in more than one way:
as you start ranking in Google searches, an increasing number of people will stumble upon your blog
other websites will link back to you, which will expose your blog to their readers, as well
an influencer can come across your blog, love the content and decide to share it with his followers (your content can become viral!)
a journalist can discover your content, appreciate your perspective and mention it in one of their articles or reach out to get a quote from you
All this is perfectly viable for your business, as long as you focus on one thing only: publishing excellent content that educates, entertains, and motivates your audience.
#4. It is a great platform to share your passion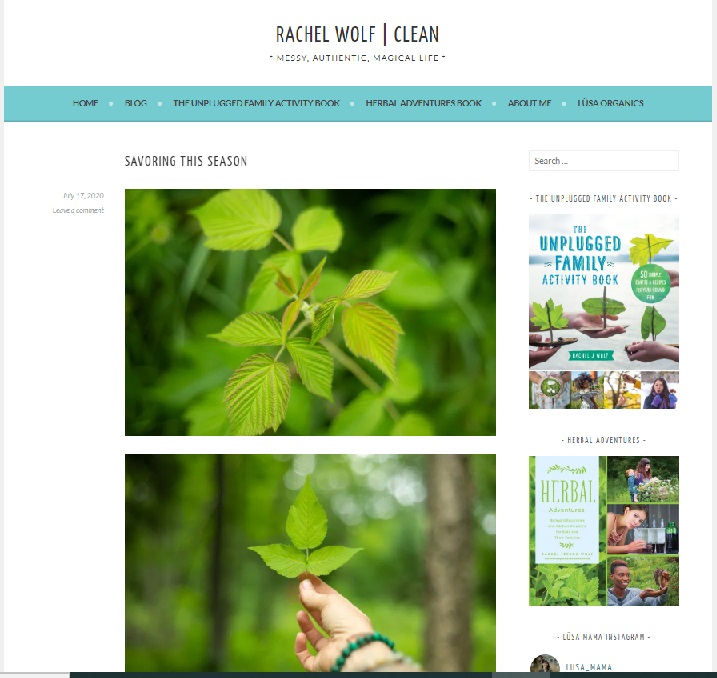 Rachel Wolf's Blog on unplugged parenting
You started THIS business and not another one because you are passionate about your topic and want to make a difference (at least I hope so!).
By writing about your preferred topic, you will inevitably showcase your passion. This will make you human, relatable, making it easier for your audience to connect with you, your brand and your business.
Passion is also contagious: don't be afraid to write passionately about your topic. It is one of the best ways to attract an engaged and loyal audience of people who will be your biggest brand ambassadors.
#5. It builds a trustworthy brand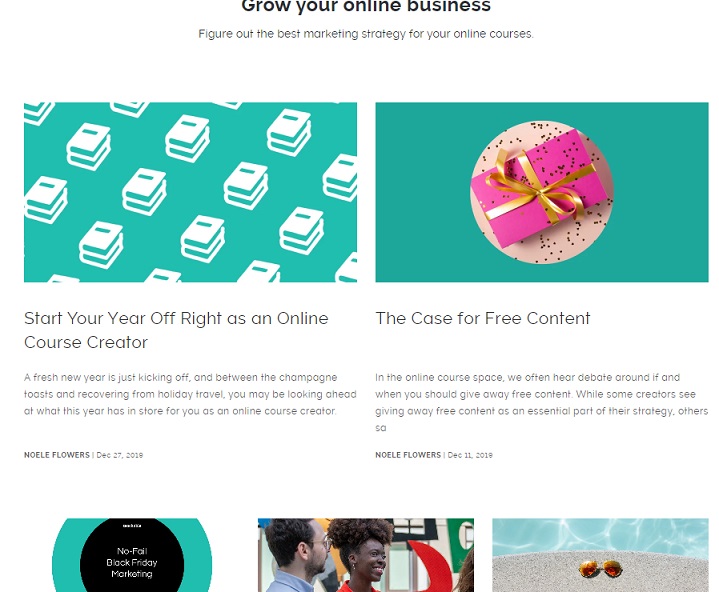 Teachable's blog
When you are consistent with your blog publishing, whether this means publishing every week or every month, you send a message that:
You are here for the long run
You are reliable
This will develop into credibility for your brand, which will help your entire marketing strategy.
#6. It showcases your brand personality
When you meet someone for the first time and they have a great personality, you want to become friends. Right? Your blog content has the same goal: to make the readers like you and want to start a relationship with you and your brand.
Expressing your personality through your writing is a wonderful idea. No matter the topic, infusing your individuality in the content will make your blog stand out from the crowd.
Once you are clear on your brand personality, you can sprinkle it throughout your content in several ways, like for example:
Include personal stories
Have a conversational tone
Be funny / thought-provoking / controversial
Talk from experience
Use storytelling
Use visuals that showcase your brand personality (gifs, videos, colorful or only black and white images, etc.)
By the time people book a call with you or go to the sales page, they should feel like they know you and like you. So don't be afraid to reveal yourself in your writing. You will attract more people resembling your ideal client (and turn off those who would only waste your energy).
Advantages of blogging: a business blog will create an excellent foundation for all your marketing efforts
When you create a blog, you start building a solid foundation for your online house. All your marketing tactics will then help you build roads to this house and invite everyone to visit. This is how your business grows.
#7. It positively impacts your business long term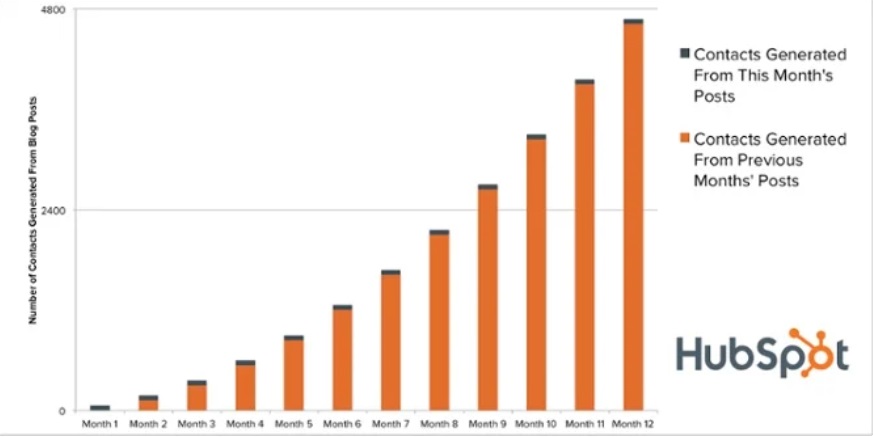 Once you publish a blog post, it has the potential to bring in traffic for years to come. The traffic will increase as your blog post starts to rank in Google searches.
As you publish more blog posts, you will see a "snowball" effect in your business. HubSpot published the graphic above to show how much traffic they are getting from new and old content on their blog.
#8. It transforms your website into an interesting place to check out
Your blog needs to be more than just another blog. You don't want to become a part of the Internet noise.
You should aim to create such compelling content that people want to check it out regularly, just because they enjoy it so much. This is possible for many niches.
This is how you take your blog from a need-based one (I need to read this because I have a question) to a want-based one (I want to read this because I simply enjoy it). In the process, you are nurturing your readers and transforming them into fans – you are growing a community around your brand and business.
Your blog's content needs to be so exciting and entertaining that people want to read it for leisure.
For example:
a restaurant can run a blog with posts on choosing quality ingredients, easy seasonal recipes, food destinations around the world, good quality cooking equipment, etc.
a fitness training company can run a blog around supplements, home workouts, nutrition, health, etc.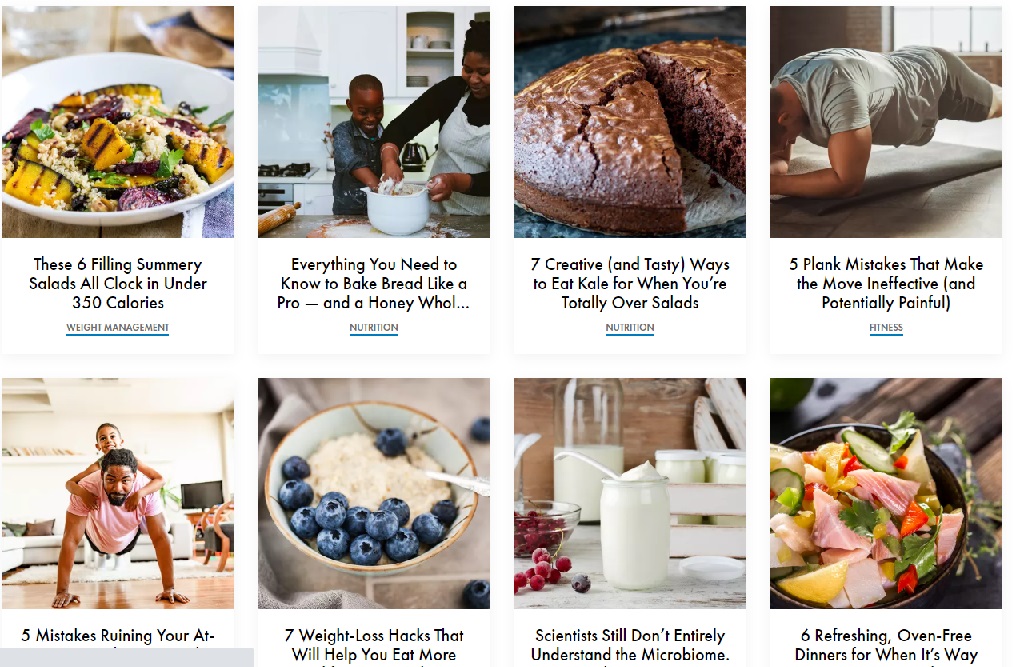 the LiveStrong blog
This is exactly what the founders of the award-winning app MyPlate did with their LiveStrong blog, which now is read by more than 32 million people every month.
#9. It adds a competitive advantage
One of the most impactful benefits of blogging for business is building a competitive advantage.
A business with an active blog is more likely to persuade a visitor to become a client.
Also, by having a
well-thought-out blog, with excellent content that brings value to your target audience, your business will simply stand out from the crowd and leave your competitors behind.
Example: the American Express blog adds a lot of value by regularly publishing great content on high-interest topics for their business-focused clients.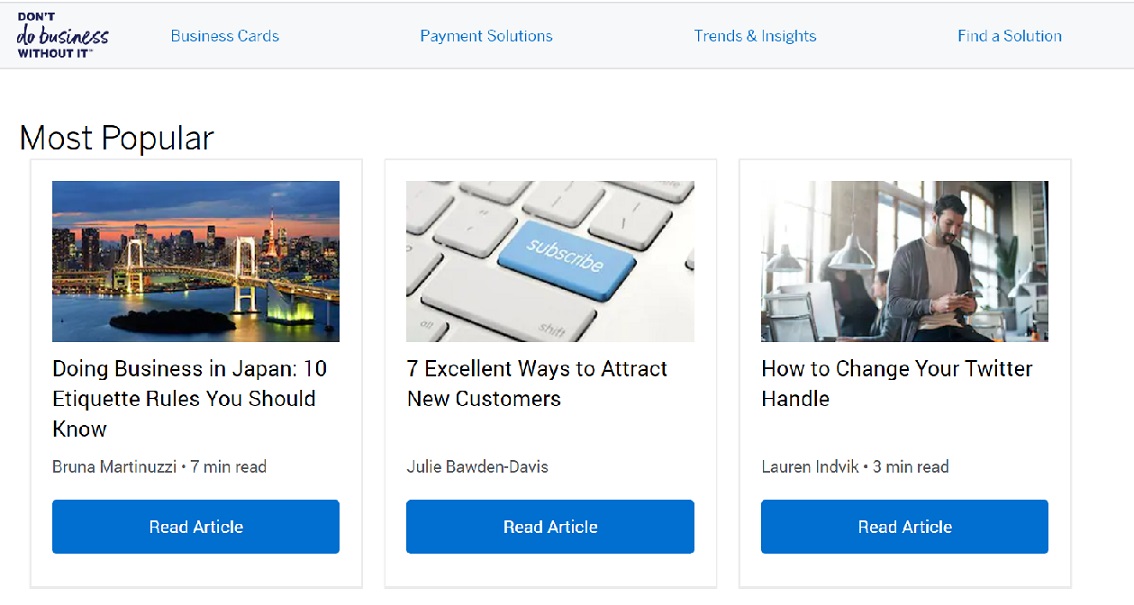 #10. It gives you valuable feedback from the market
Your blog should encourage readers and clients to share their opinions. In the comment section of a blog post, they can leave their ideas about the content, share their experience using your product or interacting with your brand.
Example: Ramit Sethi's blog, GrowthLab, is a gold mine of examples. His writers do a great job of ending their blog posts with great calls-to-action which invite the readers to share their thoughts and struggles in the comments.
Here's an example of a call to action which resulted in no less than 173 comments: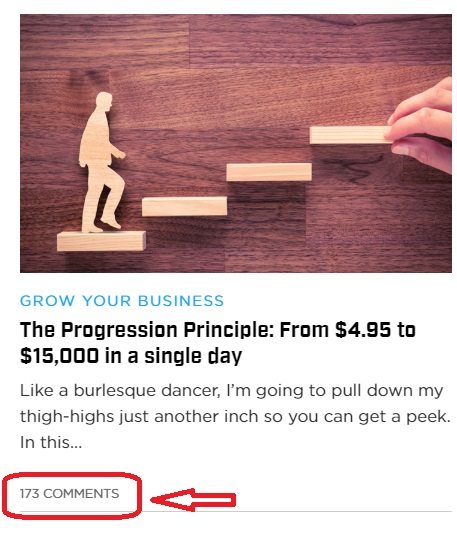 Result: lots of comments
You can pull out useful information from these comments, such as what topics the readers seem to engage with the most or what other topics they would love to read about.
This information will make your marketing more targeted and effective.
#11. It helps you better understand your target audience (ideal client)
By analyzing the results of your blog content (what topics get the most traffic and engagement, how much time people spend on your blog, etc.), you will gain valuable insights into what goes on in your audience's mind. You will better understand your ideal client and their specific preferences, interests and challenges.
Examples of useful information you can discover about your target audience:
"how-to" posts are preferred over case studies (you can find this information by checking the number of shares or comments you have on different types of content)
they are more interested in content around seasonal cooking than meal prep (you find this information by analyzing the engagement on various topics)
they are more likely to subscribe to a free mini email course than to a downloadable worksheet (you find this info by checking your opt-in rates for different lead magnets you promote on your blog page)
#12. It allows you to be in control of how people perceive your brand
Long gone are the days when a business's reputation relied either on word of mouth or (costly) TV and radio commercials.
Today, even the tiniest businesses can have control over the way their audience perceives their brand. This can be done by creating valuable and engaging content and using easy online marketing tactics (social media, Pinterest, paid ads etc.) to place this content in front of their ideal clients.
This is precisely what Suzi Whitford from Start a Mom Blog did to start a successful blog that allowed her to build a successful business and even help her husband retire from his corporate job.
#13. It helps with concept validation
Blogging is an inexpensive way to test out and validate a business idea or a new product/service before taking it to the market. By publishing content around your new idea or concept, you can test your audience's reaction and gather data to decide if it's a good idea to move forward.
This can help you save many resources (both time and money) and avoid investing in something that won't bring results.
Similarly, you can start writing and publishing blog posts on a specific topic and, after a while, you will have enough validated content that you can quickly expand into a book or online course.
You can read more about the concept of "blogging your book" in this post: 5 Ways to Go From Blogger to Published Book Author
#14. It answers all the questions a client might have
Suppose you are spending a lot of time on customer service activities. In that case, you will be happy to know that one of the benefits of blogging for business is reducing this time substantially.
Many businesses require a reliable Frequently Asked Questions (FAQ) section on their website – for example, if selling a piece of software people need to install and learn how to use correctly.
These FAQ pages can get long and your customers can get lost and frustrated that they can't easily find the information they are looking for. A blog can help with this.
Instead of having a never-ending FAQ page with lots of information for each question, you can include only the basic details along with the link to a blog post where you are presenting that topic in-depth (maybe even embed a video tutorial, a diagram, or a screenshot).
This is what a popular social media scheduling tool, Buffer, did with its FAQ page: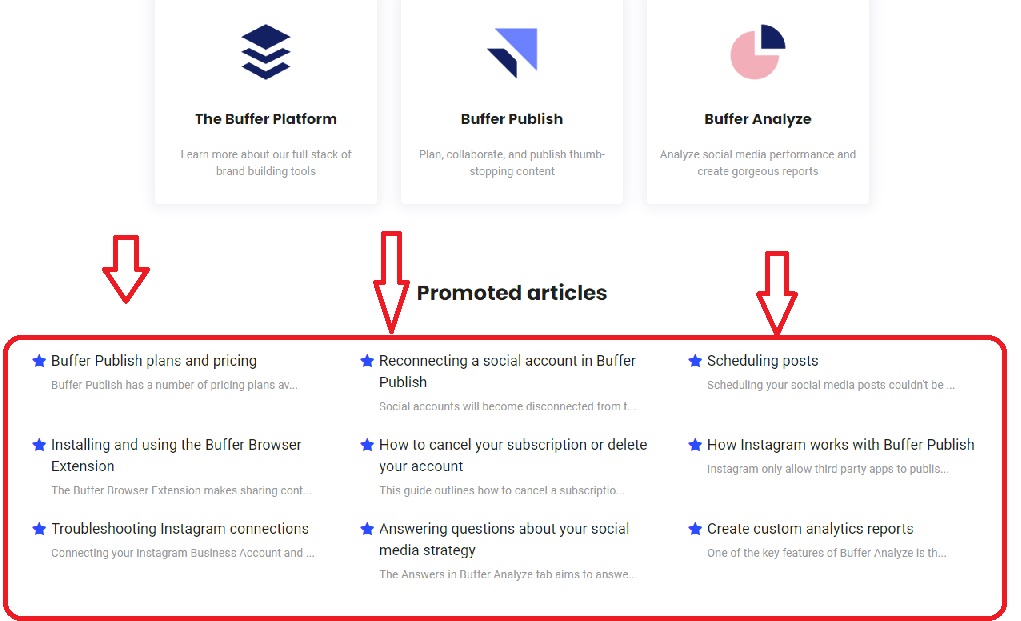 This section will help your entire customer service process, by reducing the frequency and duration of your interaction with clients and the overall time spent answering their questions. You can also increase customer satisfaction, as they will be able to find the answers they are looking for, when they need them (like at 11 pm, for example, when you are not working).
#15. It gets more results for your buck
If the main reason you are not starting a blog is that you think it's too time-consuming, you are not alone. This is one of the most common objections I hear.
While researching and writing great content does take a significant number of hours, you can immediately transform it into many other pieces of content for all your marketing platforms once you wrote a blog post.
This is called content repurposing and will effectively save you a lot of time with overall content creation.
Here is what you can do with a 1,000 words blog post talking about 10 tips to achieve [insert your topic here]:
create 2 Instagram posts for each of the 10 tips = Instagram content for 20 days
create 5 Facebook posts
take out 10 quotes (from any people you are featuring inside the blog post or simply quote yourself) and post them on Twitter
create 5 TikTok videos
repost it on LinkedIn
transform it into a lead magnet and run Facebook ads to it to build your email list
turn it into an email newsletter (or a mini email series)
put together a presentation for a webinar / Facebook live training in your Facebook group
create 10 images in Canva (one for each strategy) and share them in a few Facebook groups across 2 weeks (to build your expert status)
make a YouTube video by transforming the blog post into a video script
record a new podcast episode, by transforming the blog post into show notes
As you can see, when you look at the bigger picture, writing a blog post will in fact save time, while setting you up for organic traffic from Google searches for years to come.
Also, consider that the life of a blog post is a few years, while the life of a social media post is under 20 minutes. So invest your time in creating content that will continue to help your business grow as time passes.
If you want to learn the specifics steps to take, this video by Louise Henry will help you:
#16. It enables you to share what you stand for
A brand shouldn't waste any opportunity to share what it stands for.
Your blog will allow you to practice what you preach and bring your company's mission statement to life. Through your blog posts, you can express what your company and brand are about: your vision, your values, your approach and how your products are different from others.
This will help you attract the right audience and transform them into followers and fans.
#17. It highlights the human side of your business
When you put others in the spotlight and make them shine, they will be more inclined to do the same for you. It will also show the human side of your business.
You can use your blog to talk about your business partners, clients, founders and employees and showcase their stories, insights, expertise and achievements.
The content can have different formats (case studies, roundup types of posts, Q&As, written or video interviews, etc.) tohelp those featured in several ways: build their personal or business brand, gain more social proof and increase their reach.
The popular email marketing company ConvertKit has dedicated a whole blog section to its clients' stories:
#18. It expands your network
Business networking is an essential part of a company's growth, especially for small businesses. It can help you connect with thought leaders in your space, generate high quality leads (from referrals) or create opportunities to increase your visibility and reach (speaking opportunities, media interviews, participating on an industry panel etc.)
By being active on your business blog, you become more visible in your industry's community which can lead to many opportunities to make new connections and find new ways to grow your business.
Here is a handy infographic about how you can transform your blog into a networking machine: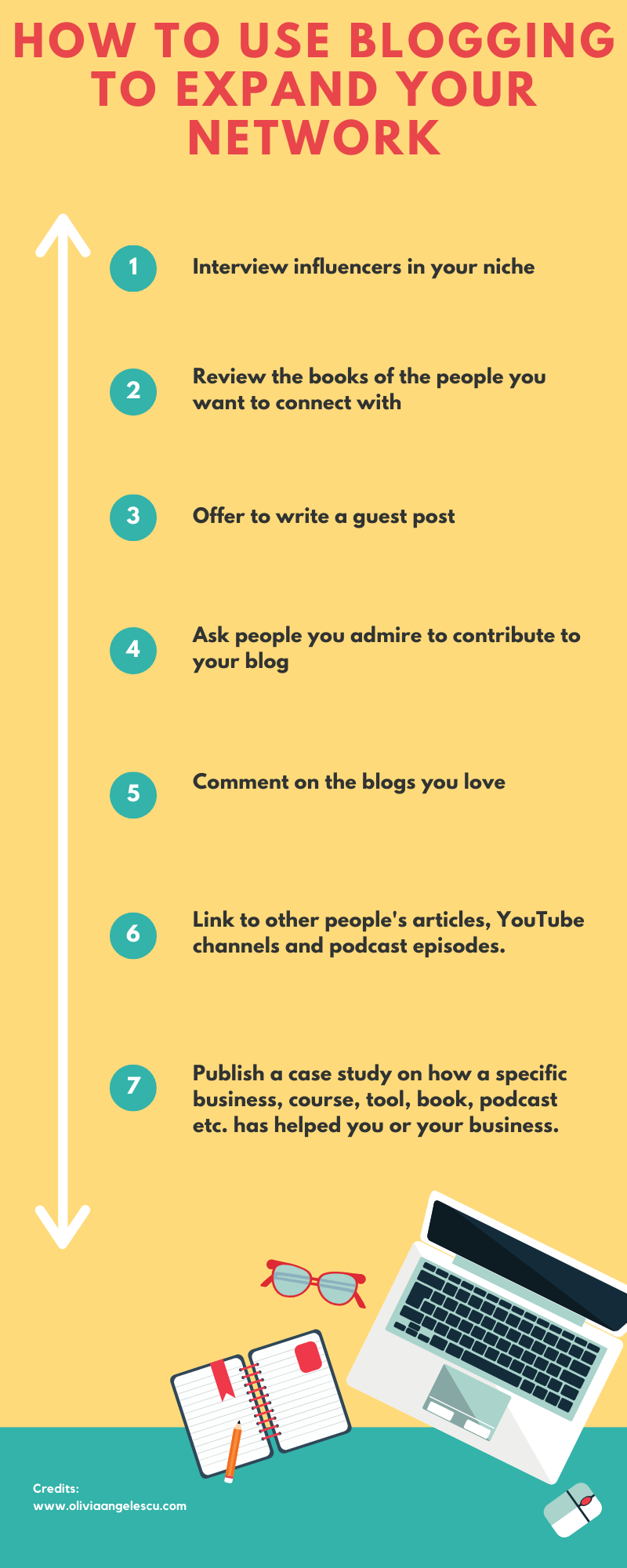 #19. It helps you build relationships with your clients
In a world where the competition for the clients' attention increases every day, convincing an existing client to buy again is easier and cheaper than getting a new client.
By focusing on increasing one customer's lifetime value (getting repeat business from existing clients), your overall profit will increase.
Blogging is a good way of keeping your existing clients engaged and ensuring your brand stays top of mind. This is a critical asset that will help you make the most out of your customer retention marketing strategy.
#20. It gets your content shared
Because your content adds value to your readers, they will share it with their friends and networks, thus bringing in more traffic. Once it gets shared by a critical mass of people, your content can become viral, ensuring growth in exposure and traffic to your website.
Example: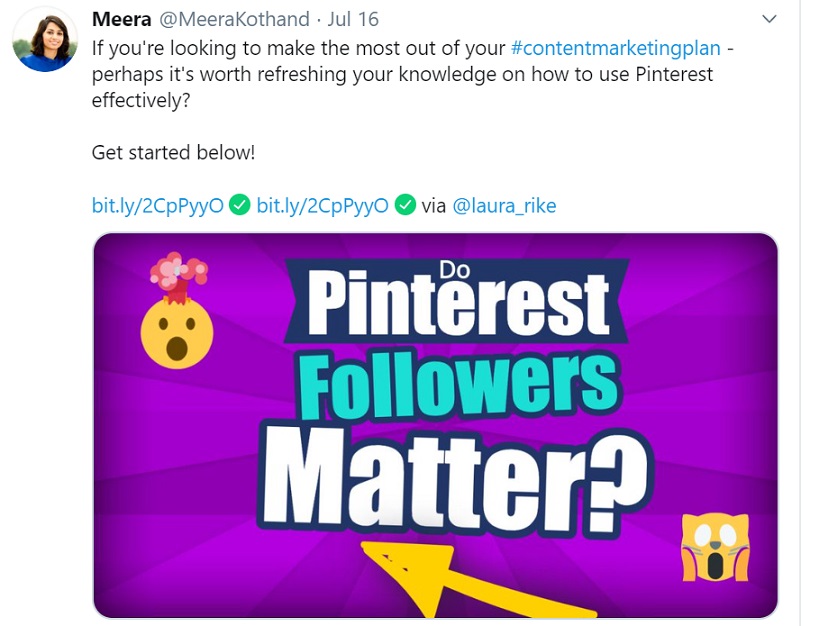 Of course, you should make sharing very easy, by inserting social media "share" buttons below your blog posts.
You can use free tools such as ShareThis or paid ones such as Sumo (also has a free option)
Here is what it looks like: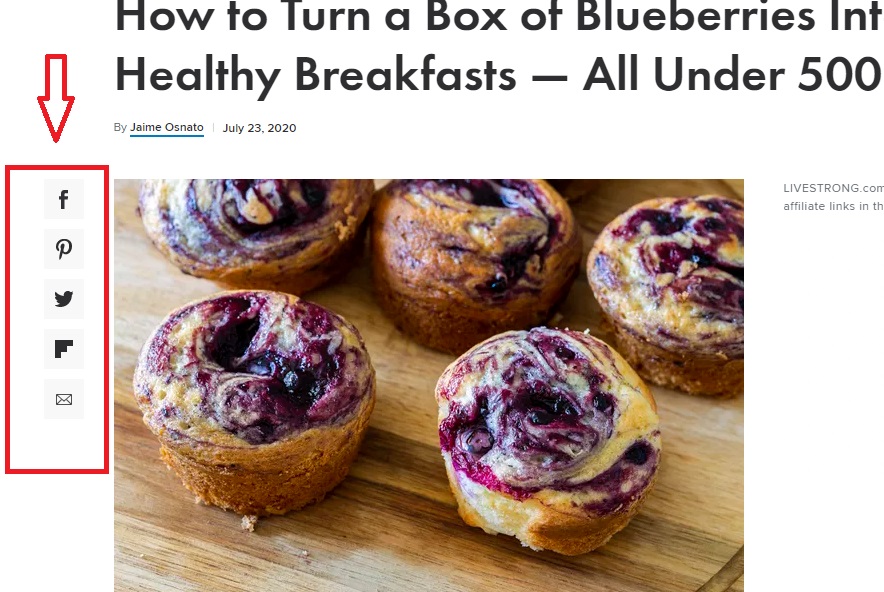 #21. It brings traffic
By publishing content on your blog and optimizing it for search engines (SEO = search engine optimization), you will get more traffic from Google searches without paying for it.
With every new blog post two things will happen:
new visitors will discover your blog and, thus, find your business and begin their client journey.
existing readers will revisit your blog, each time advancing on their client journey.
The more people read your content, the more sales you are going to see.
#22. It helps with Search Engine Optimization (SEO)
Now let's talk about the SEO benefits of blogging.
You want your content to appear on the first page of Google whenever your audience is searching for topics related to your brand. Otherwise, your content will never be seen (unless you pay to promote it).
Writing SEO blog posts is a big topic, but the main idea is to write content around the keywords (terms and phrases) your audience uses in their Google searches.
This is how insurance companies appear on the first page of Google for searches like "what to do after a car accident".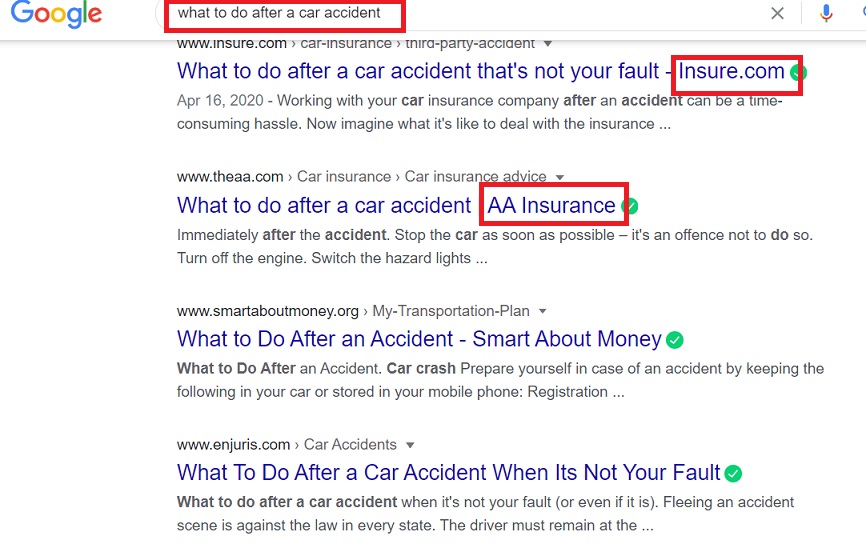 Search engines prefer websites that offer a constant supply of fresh content, therefore regularly adding quality pages to your blog will create more opportunities for you to show up in searches, resulting in more traffic to your site.
100 blog posts on your website = 100 chances for a new visitor to discover your business every second. This can quickly add up and result in thousands of new leads per month.
Advantages of blogging: A business blog will make it easier for your targeted audience to buy from you
#23. It brings value to your customers' lives
A business blog's primary goal is not to promote products and services but to provide value to its target audience. Your content needs to serve one of the following purposes: educate, motivate, or entertain your readers.
This will create a delightful experience for them and they will come back for more. Your relationship with your audience will deepen over time and you will be able to use other marketing tactics (like paid ads or email marketing) to convert them into paying clients.
A great example of a company that does just that through its blog is Southwest Airlines:
#24. It helps you build an email list of potential buyers
People will come to your blog, read a post and then leave. Life gets in the way. Many of them will probably forget about you by the next hour or day. You will lose many opportunities to sell to all these people.
Capturing their emails is critical. It's the only way you make sure you can get in touch with them again. And a blog will make it easier.
You need to include opt-in boxes on your blog that allow the readers to subscribe to your email list. You should also incentivize them, by offering something of value in return: a digital download, a coupon code, a free limited trial of your service, etc. This is called an opt-in offer or lead magnet.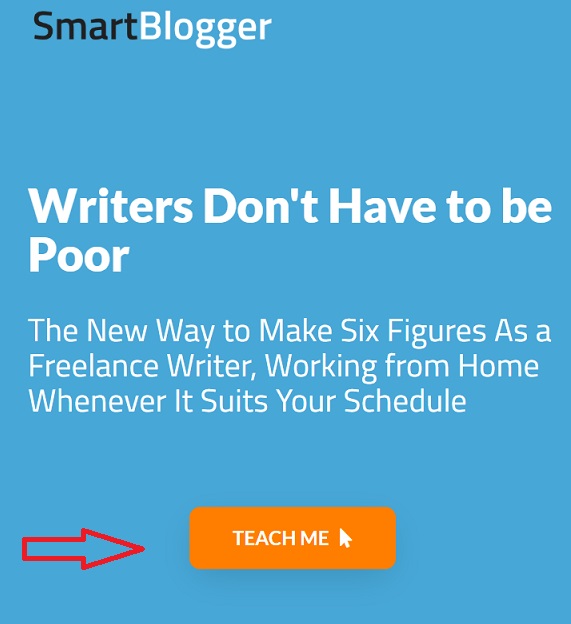 Once they become email subscribers, you will send them regular emails which will enhance your relationship even further and gradually transform them into clients.
If you want to learn more about creating a lead magnet your audience will love, I wrote a post on this topic here: How To Make Your Opti-In Convert At +60%
#25. It gets you more clients without pushing for the sale
A blog with a resourceful strategy will have content designed for people in different stages of their buying journey.
If a person is researching potential solutions to their problem, they will be most likely attracted by a valuable how-to type of post. If a blog visitor already knows how you can help them, they may decide to book a call with you after reading a persuasive case study.
When you have a captivating content strategy that ties everything together, your blog will show the right post to the right person and do all the selling for you.
It's selling without the selling part. Who doesn't like that?
#26. It enhances any influencer marketing campaign
An influencer is anyone who is popular among your target audience and who can influence their buying decision.
Influencer marketing means collaborating with influencers to get your products and services in front of their audience. This can take different forms, from product reviews to sponsored social media posts. An influencer might also mention your products without any incentive – just because they love it so much (ideal case!).
If you run influencer marketing campaigns, you can write a roundup post for the blog, showcasing how influencers are using your products and services. This will stay on the blog for a long time after your collaboration has ended, having a great potential to help sales down the line.
Here is a good article about finding influencers that are a great fit for your goals: How To Find Instagram Influencers (With Free and Paid Tools)
#27. It generates backlinks for your website
Backlinks are essential in ranking high in Google searches. Google sees every backlink as an endorsement for your blog. The more backlinks you have, the more you will show up in searches.
A backlink appears when one website references another website (links to that website: a specific blog post or any other page). When you start putting out great content on your blog, you also start getting backlinks. This is another SEO benefit of blogging.
Here is an example of a reputable blog, linking back to one of my articles:

A backlink is as good as free PR: by linking back to you, other websites put your blog (and brand) in front of their own readers.
#28. It educates and nurtures your audience
Your blog's primary goal is to educate your audience to see you as an expert immediately. When they read your blog post, they take the first step towards building a relationship with your brand/business.
When researched and written appropriately, your blog content will do all the marketing for you. It will generate traffic to your website and then convert it into leads for your business (people who sign up for your email list, book a call with your team or go straight to a sales page).
#29. It allows you to cover a topic in-depth
When you are quoted by a journalist or are a guest for 30 minutes on a podcast, you can't cover a topic in depth. But you can do so on your blog.
A 2,000 words blog post will better educate your audience than an 800-words one. Publishing comprenhensive content allows you to showcase your expertise while improving your SEO (search engine optimization).
Longer content also gets more shares, just like we can see in the graph below: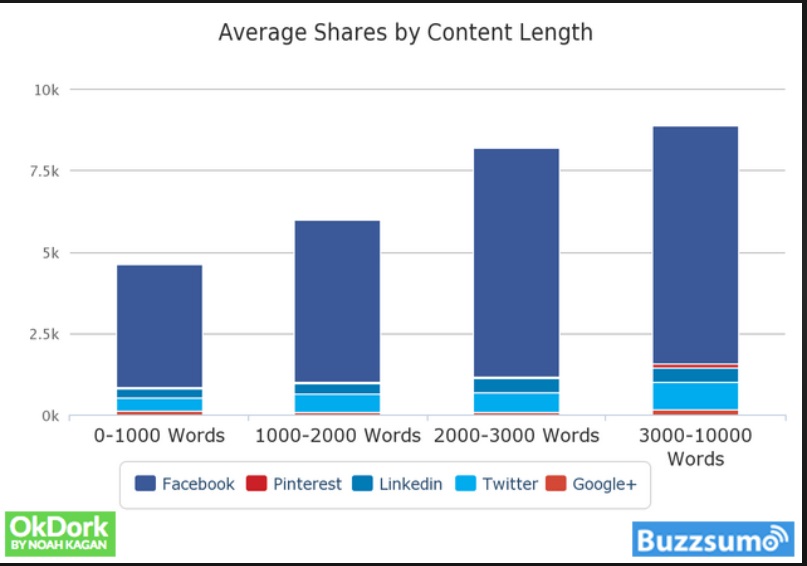 #30. It creates a self-multiplying effect
One of the benefits of blogging for business is that you only work once and then reap the results well into the future. This is the compound effect of great content.
In-depth, evergreen content (covering things that are valid today as well as in the foreseeable future) creates a compounding effect. Once picked up by the search engines, it will generate consistent traffic every month in the long run.
This is exactly what the HubSpot team has seen with their own blog content: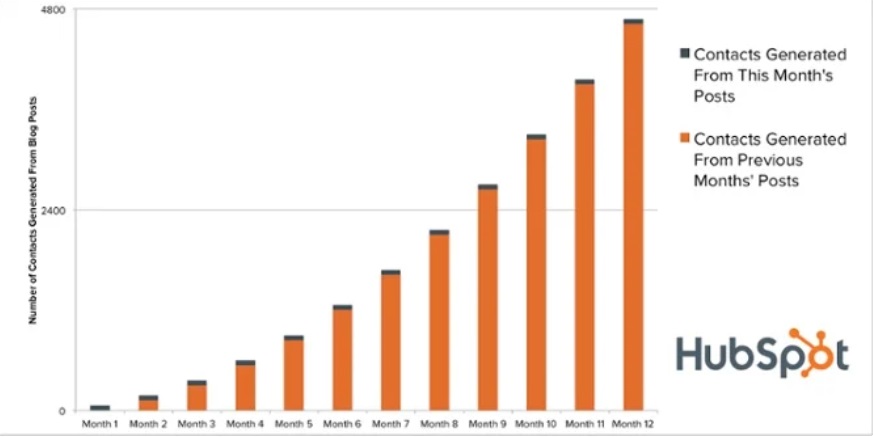 For maximum impact, update your evergreen posts at least quarterly, to keep them fresh.
#31. It improves your email marketing strategy
Email marketing is powerful, but you can't send promo emails all the time. This approach will only make people want to get off your email list.
For the best results, your strategy should include emails that entertain and/or educate your subscribers. Look at an example: Jon Morrow from SmartBlogger always sends out an email with the latest post from his blog: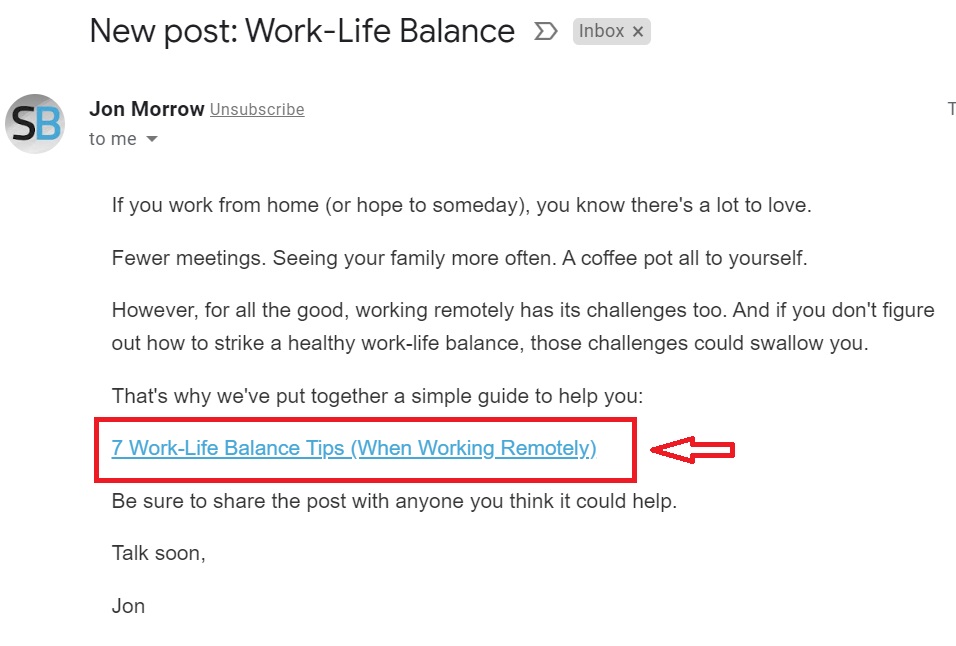 Your blog has the same goals as your emails: make readers trust and like you. So, you can increase your email campaigns' efficiency by sending content taken from your blog posts. This will enhance your entire email marketing strategy while making the most out of your time, as you'll repurpose your blog content.
#32. It can become a content house for your entire business
A blog is an excellent way to create a content hub for your entire business, that every area/department of your business can easily refer to when needed.
This is even more relevant if you embed all kinds of content formats in a blog post: audio files to a video, an infographic or a slide presentation.
For example, let's say you are selling a subscription-based digital design software. Your customer service representative can easily send a link to a blog post to a client who needs to learn more about all the different designs they can create by using your software. You can even create easy step by step tutorials (how-to type of blog posts) to help them.
Let's see an example from Canva's blog: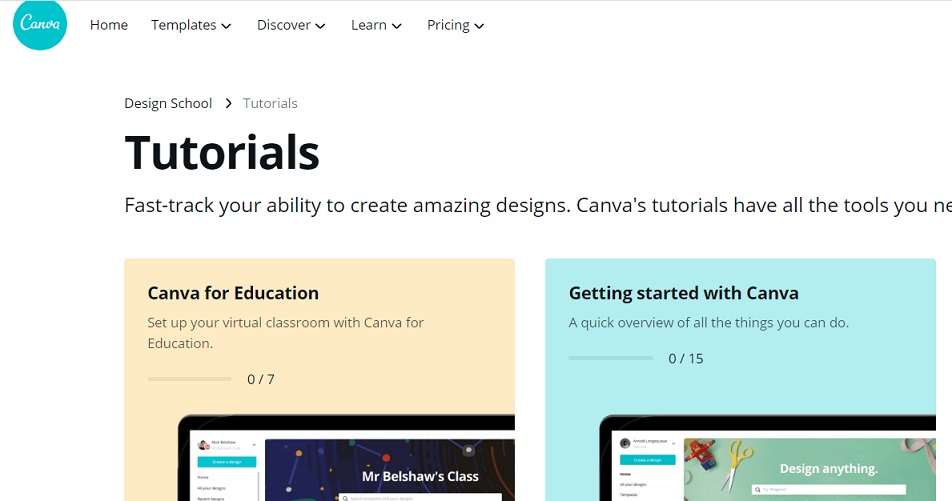 The same blog posts can be used by your sales representatives to demonstrate to a potential client how easy it is to work with your software.
#33. It upgrades your social media content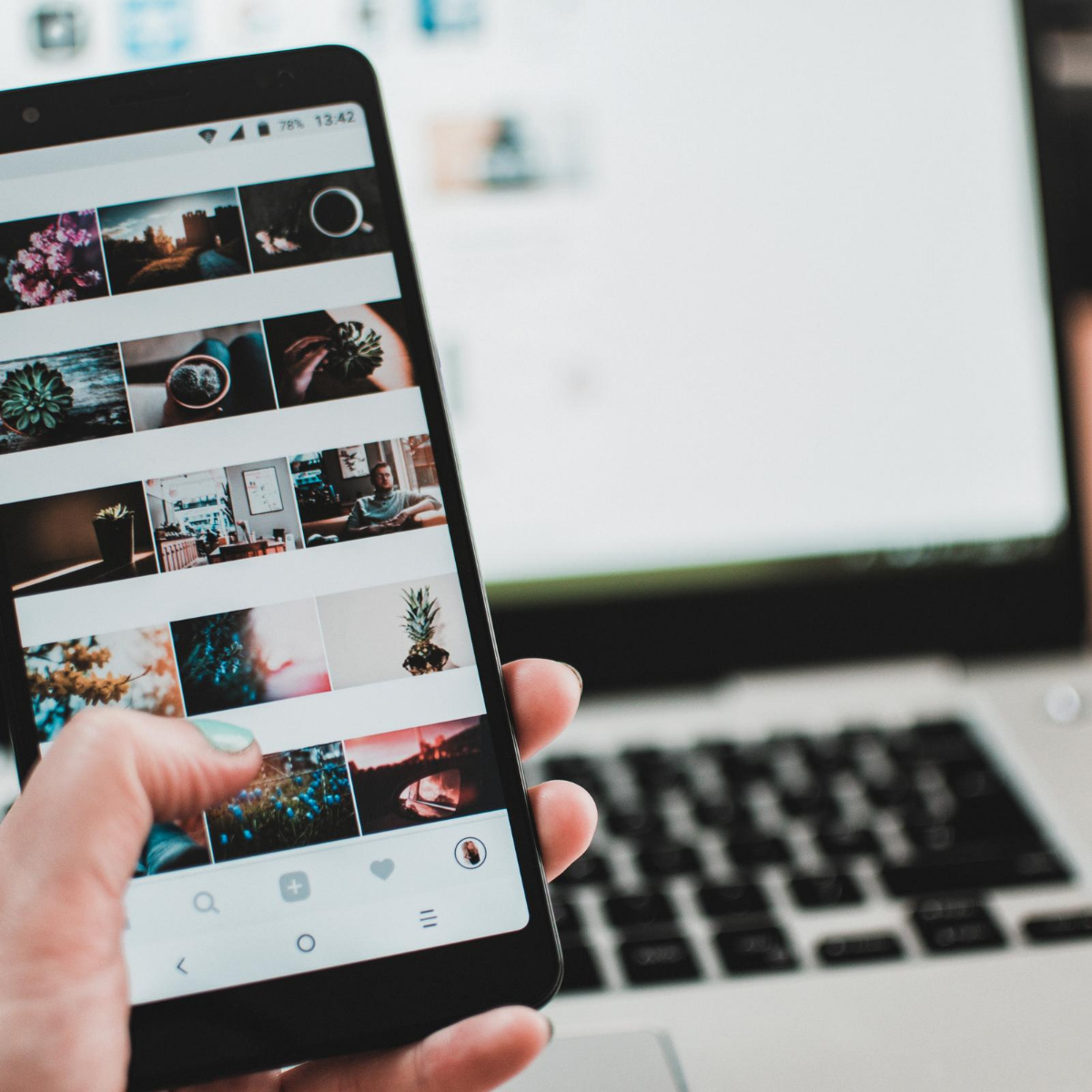 A few months ago, a client told me she hasn't started a social media account yet because she was intimidated by the thought of having to post something every day – she was not confident she could come up with enough content ideas all the time.
You might handle your social media content creation yourself or you might have a VA or a dedicated social media person to help you. You might be more active on Instagram or you might prefer focusing on TikTok.
No matter your specific situation, if you have a blog you'll never run out of great content ideas for your social media game plan. And, since the content is already created, you will save precious time.
Here are a few ideas on how you can repurpose blog content for social media posts:
Put together an infographic
Create multiple images with tips
Write a quote (you can quote yourself or someone featured in the blog posts)
Write a two-phrase summary of the blog posts (the main idea/ main lesson learned) and share it with a link to the blog post
Use the blog post to create a video script and for a YouTube video
Another extra benefit is increasing the quality of your social media content altogether. Since you are committed to only publishing top-notch blog content, by using it on social media you'll have top-notch content here as well.
Your posts will not become part of the noise and you'll see more comments, shares and clicks (people love sharing great content).
ies
#34. It creates more opportunity for your business to be discovered
As mentioned before, the more pages your website has, the more chances it has to rank up in search engines. Search engines need fresh content to index every day, which increases your opportunities for being discovered in searches.
But you probably only have 3-7 pages on your website and chances are that you are not updating them very often (think about how many times you have updated your "Home" page over the past 12 months).
Having a blog page and publishing regular content , will solve this problem and set you up for organic traffic from searches. The more blog posts you publish, the more pages your website has.
#35. It keeps readers longer on your website
By writing a blog post and inserting links to other content on your website (to another blog post, to your sales pages or your "Work with me" page, etc.), you will further guide new or familiar readers further into their client journey.
Depending on how you build your links, your readers will have the opportunity to learn more about your brand, read more useful content that position you as an expert in their minds, discover your products and services, go to a landing page where they can sign up to your email list, etc.
This is an easy strategy to make the most out of every blog visit, increase the time blog visitors spend on your website and effectively push your readers forward on their client journey.
#36. It creates more promo opportunities for your offers
People search Google because of two reasons:
They are looking to educate themselves on a topic (for example they might search something like "how to tie a bow" or "keto weight loss")
They are looking to buy something (searching for things like "best vegan restaurant in London" or "gift ideas for new moms")
Your blog posts will come up in those searches if you work on your SEO (search engine optimization). These people will discover your website and check it out to see if your content helps them with whatever they are searching for.
Now, let's imagine that you are selling T-shirts with funny messages and someone is looking online for this exact type of T-shirt. Google suggests them to check out one of your blog posts where you wrote about the different types of T-shirts people can buy from you. Maybe the blog post is called "5 Funny T-shirts To Buy For Father's Day". This blog post includes links to your shop page, where people can place an order.
The reader has actively searched for "funny T-shirts" on Google, with the intention of buying one (or more). This means that they have high buying intent. They will read your blog post and a part of them will click on the links inside the post to learn more about colors, prices and how they can order.
Once they click, they are taken to your shop page and they can place an order immediately. So each blog post can be an opportunity to promote an offer, converting readers into clients.
Here is an example in action: an organic dairy farm with a blog full of yummy recipes. Each recipe includes ingredients that can be purchased from the farm's online store.
#37. It helps you showcase what your products and services can do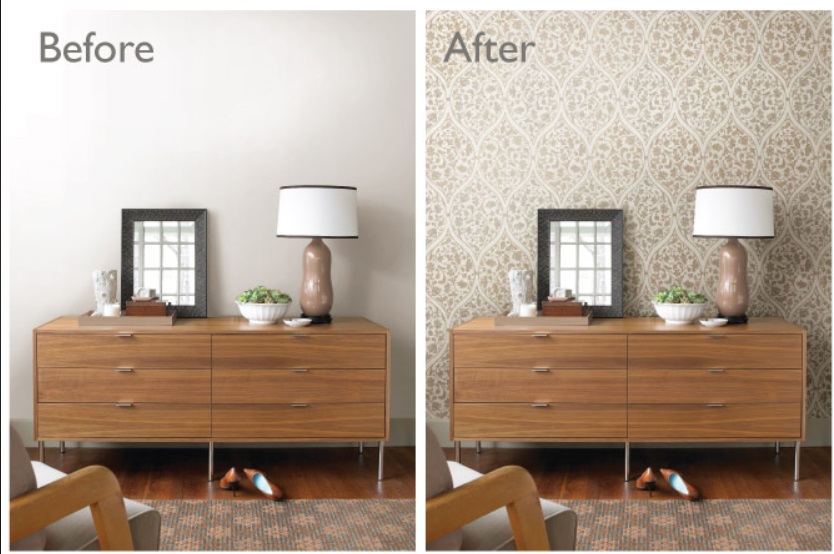 No one likes an unpleasant surprise. Heck, some people don't even like a pleasant one!
Social proof is an essential part of the sales process for any company: is crucial to prove that your products and services are doing a fantastic job at solving people's needs and that your past clients loved them.
Also, people love a good "before and after" case study, especially in specific areas with a high visual component like home improvement, weight loss, personal styling, website design, etc. It is essential that they visualize how their life, home or body will look after working with you.
The easiest way to share a case study is via a blog post. All you need is a few high-quality pictures that showcase the transformation. Once this is done, people can come across it via Google or you can send the link to anyone who asks for examples of your work.
#38. It helps you get more sales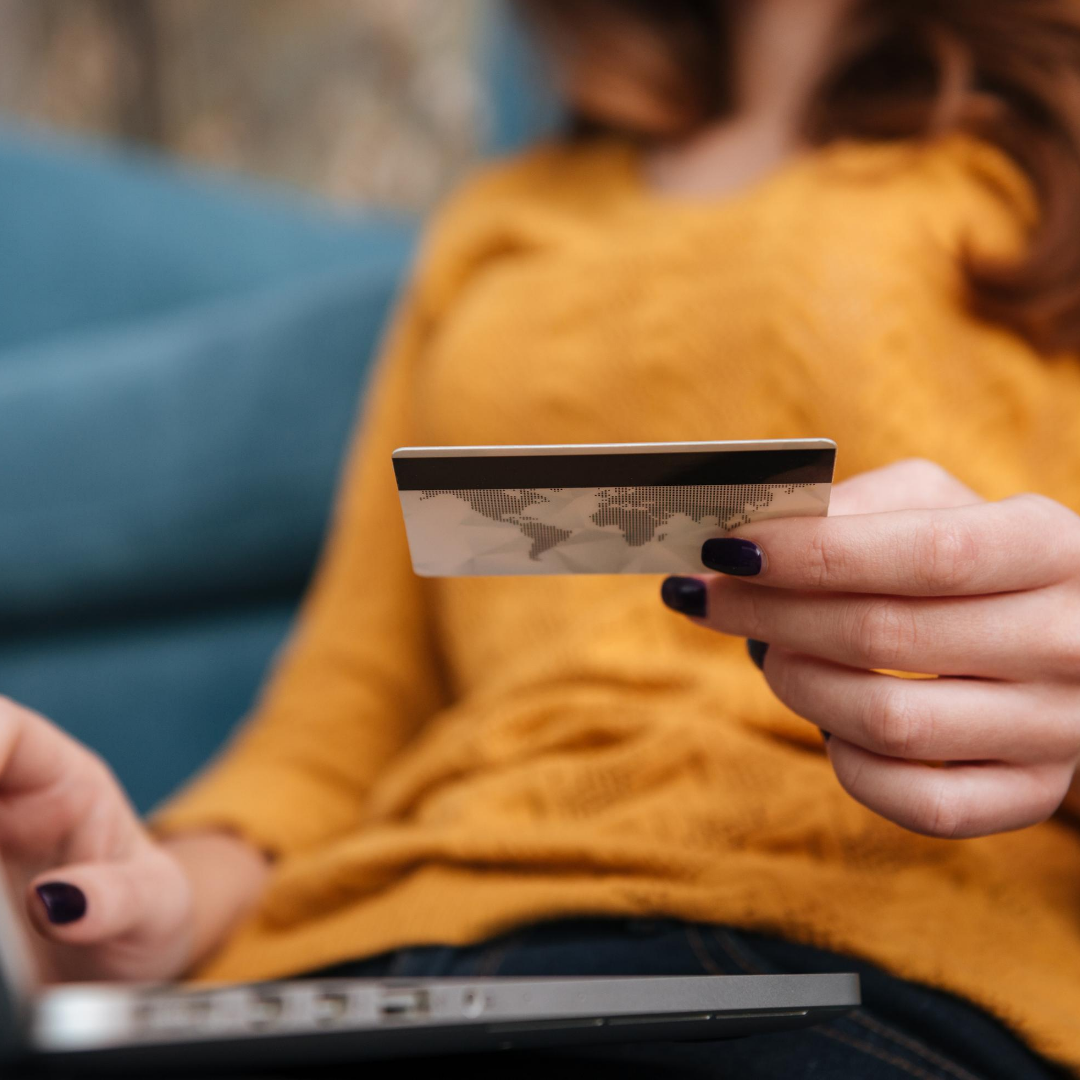 With an array of similar products and services to choose from, your clients will make buying choices based on their subjective perception. People will choose the brand that they know, like and trust the most.
Your blog can help them choose your brand.
By publishing great content that your readers particularly enjoy, they will like your brand more, until it becomes natural to choose you over your competitors.
#39. It boosts your PR efforts
When you send pitches to the media, you can include a link to your blog. A well-written blog signals that you are an expert on your topic to any podcast host, editor, journalist or TV producer. They will be more likely to consider your pitch.
If you also have a significant amount of monthly traffic to the blog, it makes sense to use it when you have a special announcement that you want your target public to know about. Think of a press-release kind of content where you can share news about your company, the launch of a new product or a new valuable partnership.
Here is an example from the Starbucks blog: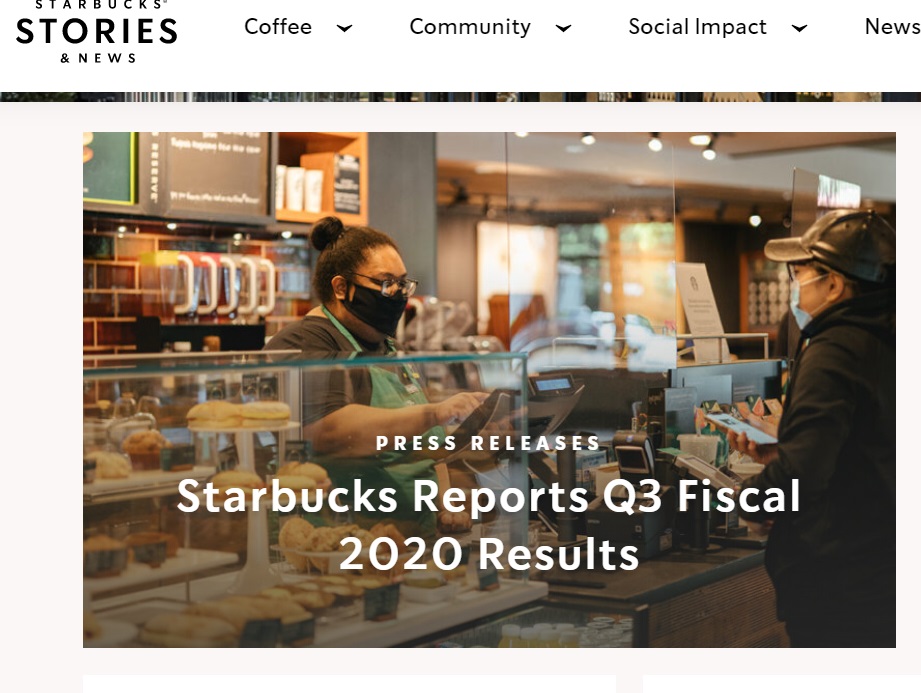 This is a more advanced tactic and should be used wisely, as your blog's goal is not to become a PR platform for your business.
#40. It is fun!
This is my all times favorite benefit of blogging for business. Blogging is hard work, but it's fun too. This is especially true when:
you are passionate about your topic: when I am writing for my own blog, I lose any sense of time. I can spend hours without needing to take a break. This is how much I enjoy it. But I am sure it would be a different experience if I had to write about a topic that bores me to death.
you like writing: if you don't, consider outsourcing the blog posts writing part to a freelancer – you'll thank yourself later.
you start seeing results: more email subscribers, bigger launches, substantial profits and taking your business to the next level.
Ok, so now you have it: a complete list of the 40 benefits of blogging for business: this is how a blog will help you reach more people, build your brand and grow your business.
So, what next? Well, let's take a quick look at the things you need to pay attention to as you start defining your blogging strategy.
How to get the best results from your business blog
Blogging takes time and effort. If you just start writing, with no strategy and plan whatsoever, you'll soon feel like you are shooting in the dark. Here are a few things to consider as you start your blogging journey.
Have a strategy for your business blog
If you don't take the time to create a clear strategy for your blog, you can end up writing and publishing every week for months without seeing any results coming in: no traffic from Google searches, barely any new leads, not to mention any sales.
But how do you even start drafting a strategy for your blog? Start by answering these simple questions:
What do you want to achieve with publishing content on your blog?
Examples: authority (brand building), organic traffic (from search engines such as Google), email subscribers, people who book a call with your sales team, etc.
This will further dictate your content topics, blog post format (a detailed "how-to" type of post versus a case study to showcase how your product/service changes the life of your customers) and call to action (what action do you want people to take after reading the blog post)
How many blog posts will you publish every week/month/year?
Important note: more blog posts don't necessarily equal more traffic or more leads. It is much better to focus on writing high-quality content (that is truly helpful for your audience) than on quantity.
Who will create the content strategy?
This means deciding what topics to write on. If you want your content to appear in Google searches, you need to plan your content strategy with SEO in mind, which takes a lot of research. You can take an SEO course or work with someone who can help you.
Who will write the content?
You can write everything yourself, you can assign this to a member of your team, you can hire a freelancer or even work with a content creation agency.
How will you promote your blog content?
Write down all the social media platforms that you are already active on and choose the ones where your clients are most engaged. My recommendation for those who don't have a team is to start with one platform and go all in. Once you start seeing results, you can bring other platforms into the mix.
Other promotion methods to consider are: reaching out to influencers in your space, including links to your new blog posts in your email newsletters, using paid ads, etc.
How will you track and measure the impact of blogging on your business?
Based on your blogging goals, you need to have a simple system to track and measure your results against that goal. This can be as simple as a spreadsheet that includes, on a monthly bases, all the traffic numbers, new email subscribers, number of comments, new booked calls, etc.
What budget will you assign for blogging?
Whether you decide to do everything yourself or outsource it to a freelancer, you need to set a budget for it. This can include things like: SEO research tools (I use Ahrefs), freelancers, proofreading and editing work, any SEO course you need to take if you choose to do everything yourself, etc.
Be consistent
Just like any other marketing strategy out there, blogging takes consistency and commitment. Google loves fresh content and you will not appear on the first page of Google if you only blog when you find some free time.
You will make your life easier if you focus on publishing quality, long-form, evergreen content. It is more time consuming to write it, but once you created it,you'll only need to update it a few times per year (even less) and you'll have evergreen content that your business will benefit from in the long term.
Deliver on your promise
Writing compelling headlines is essential, as their job is to attract as many people to your blog. But once those people read the headline and decide to read further, you need to give them exactly what you promised in that headline (and even more!).
There is nothing more off-putting than extraordinary headlines that set the expectations high, followed by average blog posts that fail to deliver on the promise. If your headline is "The Ultimate Guide on How To Create Graphics In Canva", you'd better write a blog post that's worthy of its headline.
Keep it simple
Many have a hard time trying to explain a process or a concept to someone who is not familiar with that subject. Remember, your audience is probably not made up of your peers (unless it is!). Stay away from industry jargon and complex sentences. Use words that your audience would naturally use when searching for this topic on Google.
The average American adult reading level is that of a 9th grader. Therefore, you need to use simple words and sentences that are short and not complex, which can be a lot harder than it sounds! Most online writers are surprised to see how high the reading level of their content is.
You can use tools such as Hemingway to check out the readability level of any text.
And a final note:
With millions of blog posts published every day, make sure you don't just become part of the noise. Start with a content strategy that focuses 100% on providing value to your ideal audience, dive in and stick to it.
This is the only way to have a blog that is not just a blog, but also a lead generation machine.