FREE MASTERCLASS:
How To Find 20 Websites that are not good, but

GREAT

for Your Guest Blogging Strategy, in Under 30 Minutes
The masterclass will take place on August 3rd, 2017 - at 8 pm CET / 2 pm EST
Join me as I take you through the step-by-step process of finding GOOD QUALITY websites for your guest blogging strategy, even if you are the busiest person on earth and have no time to spend on Google research!
No more guessing, no more wondering if one website is better than the other or if this is worth your time!
Watch this masterclass and finally have a clear strategy for guest blogging that is going to be easy to implement.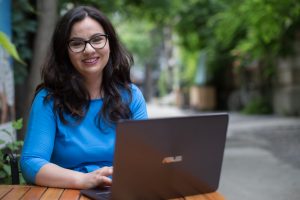 Hi, I am Olivia Angelescu. I am a content marketing strategist for time starved solopreneurs.
I have used guest blogging to build my expert status, add hundreds of new email subscribers and become fully booked for my VIP services.
I have developed a very efficient process for it. And then I helped my clients achieve the same things.
This is what people say about me:
When done right, guest blogging is a very effective strategy. And with the shortcuts I am going to show you in this masterclass, you will skip the endless Google research part. Cool, right?
So sign up now to reserve your FREE spot! Even if life gets busy and you can't make it live, I will send you the replay.
SEE YOU INSIDE!