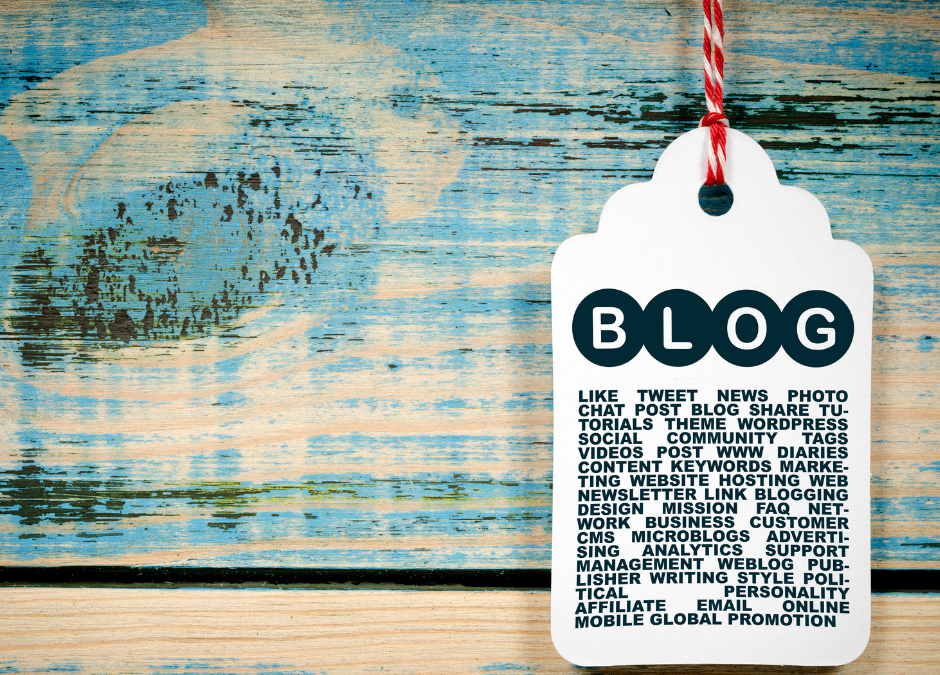 No matter what industry you are in or what's the size of your company, business blogging (publishing great content on a blog) will positively impact your organization across the board. Gone are the days when the only way to reach your target audience was via a TV commercial or an ad in a printed magazine.
Here are a few stats that speak tons about the importance of business blogging: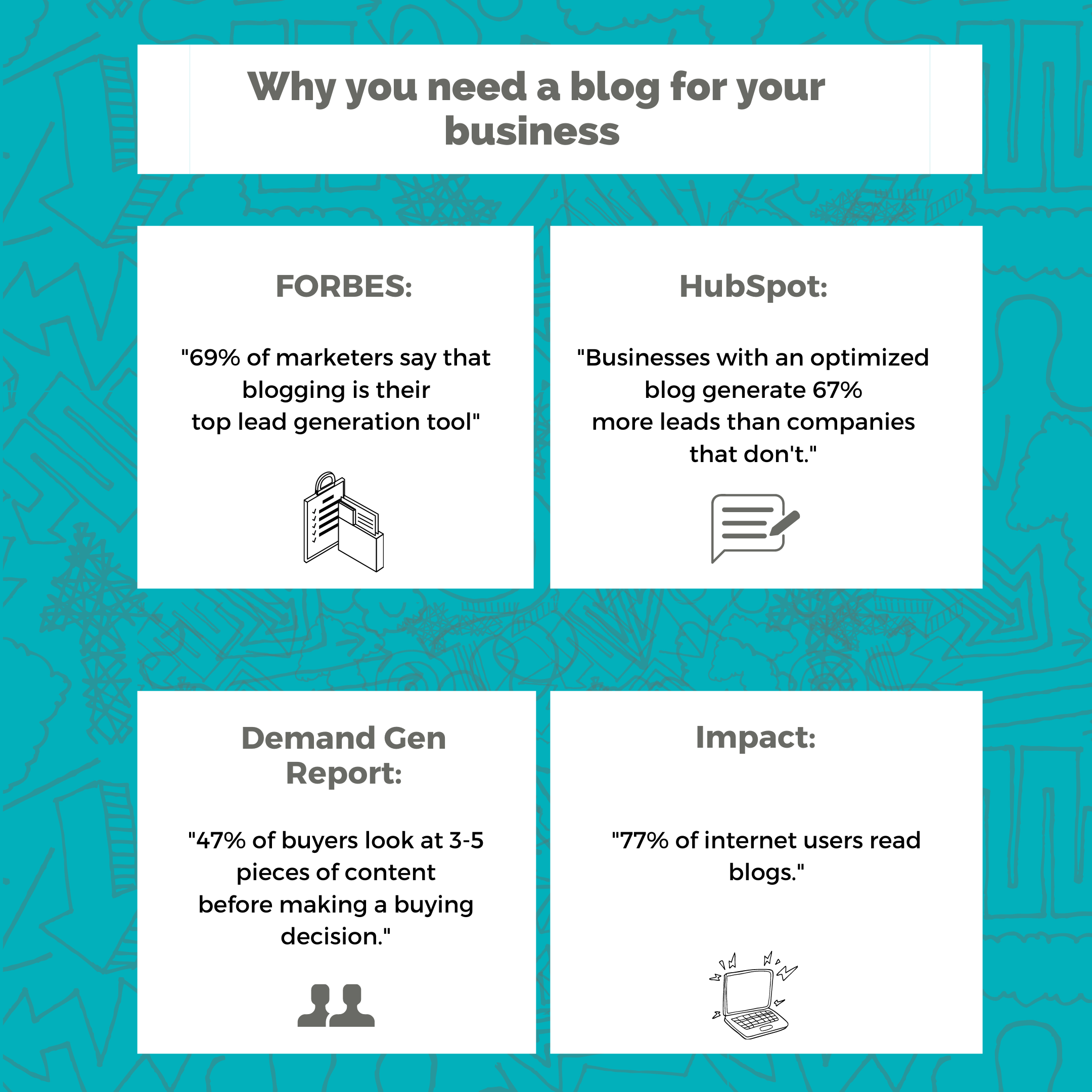 And here you will find a complete list of 41 badass benefits of blogging for business.
If you are wondering what makes a great blog, here are a few things to have in mind:
Publish content that speaks to your ideal audience
Use SEO (Search Engine Optimization) from the start to get maximum exposure and reach without paying for ads
Write great headlines that catch the attention of the reader: here is a free tool to check how good your headline is
Choose long-form content over short form: statistics show it performs way better.
Write a great opening that hooks the readers and makes them want to read further.
If you want an actionable process on how to write a great blog post, you can here's a useful resource.
But if all you need is some inspiration, some great business blogging examples, this article is going to help.
I've put together a list that will do just that. Without further ado, let's start!
1. Teachable – platform for online courses: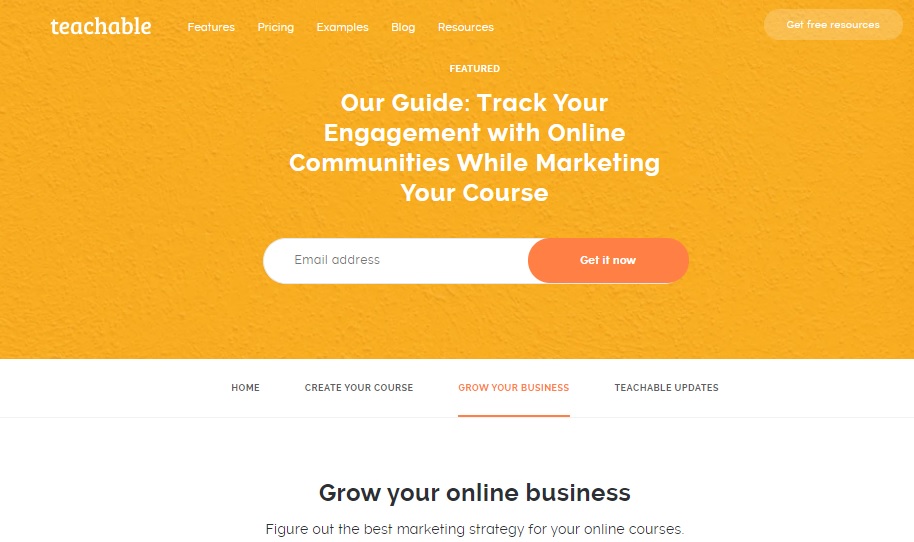 Teachable is an online course platform that allows experts to share their knowledge without dealing with hosting, coding, or payment processing. The company's blog shares useful content for any course creator: from pricing strategies to launches and promotion strategies.
Here are some excellent business blogging examples from Teachable's blog:
This is a no-fluff guide to everything you need to get started with your online course creation business. Each category has a few different options for every budget.
This post shows you how to break down your online course creation into manageable pieces and use Trello as a project planning tool.
Writing for other people's audiences is a great way to be visible and build an engaged audience. But you won't get positive answers if you don't know how to craft a persuasive email pitch. This post teaches course creators how to write pitches that get open, read and replied to. And yes, it's a post I have written myself for Teachable. ?
Tips from Teachable's blog:
Don't limit your content to only talking about your business and your products/services. Brainstorm topics that help your audience beyond this.
For example, if you are selling cakes, don't just write about ingredients and recipes. Your customers are probably also interested in topics such as baking at home, baking with the kids, baking utensils, planning a party or cake decoration.
2. Isa Welly – wellness coach for busy women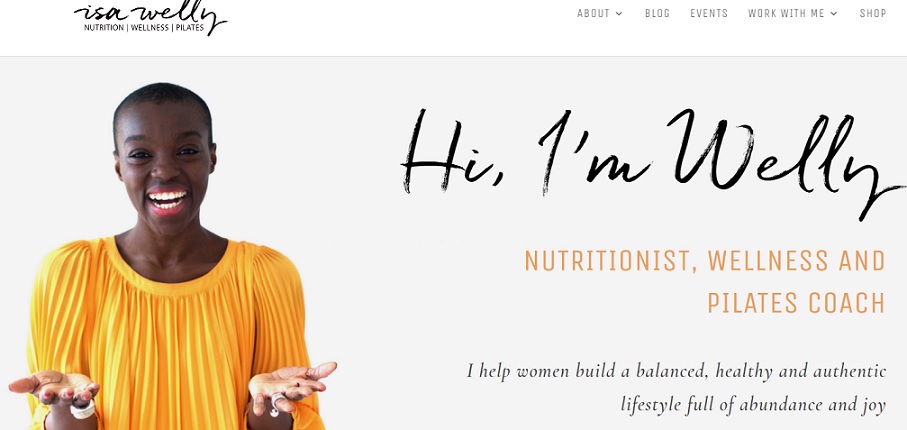 Isa-Welly is a wellness coach and an influencer with an engaged community. You might have seen her creating content for Popsugar Fitness and Adidas Women or being featured in Women's Magazine, MSN and Harper's Bazaar.
Fun fact: she used to be a professional dancer, going on tours with Robbie Williams, Madonna and Kylie Minogue!
Isa-Welly is an amazing, effervescent woman and, I am proud to say, one of my clients. We worked together on creating her content strategy. ?
Here are some great business blogging examples from Isa-Welly's blog:
According to the National Health Service, tiredness is one of the most common reasons why we see our GP. In this blog post, Isa-Welly talks about the seven reasons why we are constantly exhausted.
But she doesn't stop there. For each of the seven causes of exhaustion, she also offers actionable tips to fight it.
This post delivers on its headline: it's a 7-minute glutes and legs routine that will help you define your legs muscles and lift your bum up if you do them regularly. The post is accompanied by a video of the whole workout, with Isa-Welly guiding you along the way.
In this post, Isa-Welly shares how her own healing journey started (it was a hot evening in Madrid and she was dancing on stage for Kylie Minogue!) and nine lessons she has learned since then.
The main idea is that when you are on a health journey, no matter what your goals are, you need to show up for yourself the same way you show up for your family, partner and your work. Gotta love this idea!
Tips from Isa Welly's blog:
The goal of your content strategy is to reach more of your ideal clients and make them know, like and trust you. This is how you grow your business. So don't think that all your blog posts need to be educational in nature.
It is ok and even recommended to also sprinkle in content that talks about your story, share your quirks and content that motivates, inspires and entertains your readers. This is how you make the most out of your content.
3. Canva – drag and drop design platform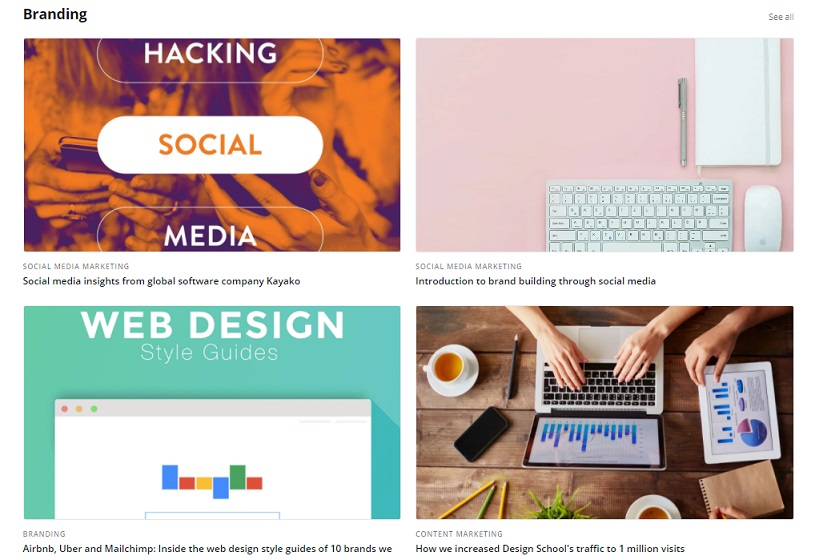 There was a time when you could only have great visuals for a marketing campaign if you hired a designer to do it for you. Or learn how to use some expensive, complicated software. Then Canva came.
Today Canva is the go-to design tool for millions of people around the globe. The company succeeded in making it easy for everyone to design stunning visuals with its professional templates, drag and drop feature and a massive library of images, fonts and icons.
Here are a few blog posts that Canva's user find valuable:
Whether you're starting your business from scratch, rebranding, or simply looking for logo inspiration, when you find this post you feel like you've come to the right place. The article provides the ultimate logo inspiration.
Without any design inspiration or design principles to follow, it can be hard to come up with a winning color combination from scratch. Canva has done the hard work for you— in this post they are giving you 100 color combinations inspired by nature, food and drink, travel, and everyday items!
Teachers and school employees are one of Canva's ideal audiences and this blog post has been written specifically for them. It contains 23 different ways to promote a school event using design, and shares some specific templates they can get started with right away.
Tips from Canva's business blog:
If you have more than one ideal client avatar (type of client), create a blog content cluster that's dedicated only to them instead of creating content that you hope will meet everyone's needs (this will most certainly cause your content to fail).
For example, Canva's blog content has five main categories: design, marketing, branding, non-profit and teacher&students. These categories represent the five ideal client avatars of the company.
4. LiveStrong – simple healthy living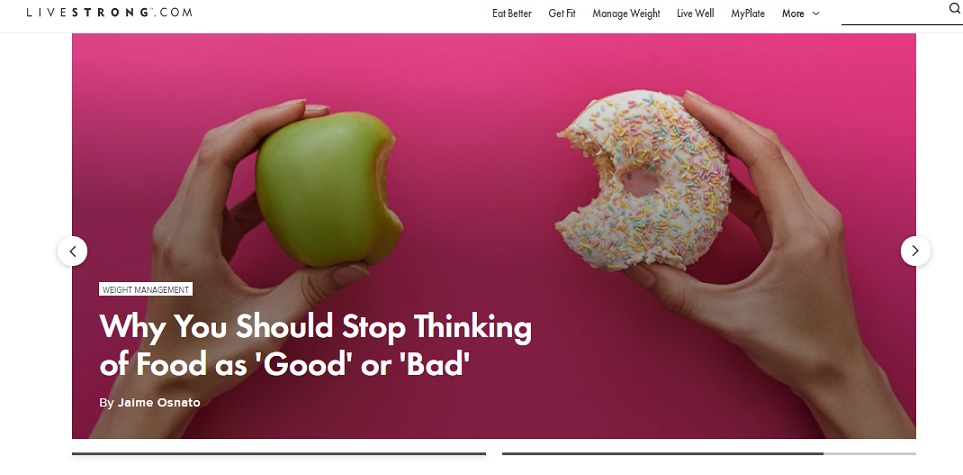 LiveStrong captures the attention of millions of people every month and it helps people make informed decisions about their health. Their award-winning MyPlate app is used by millions to lose weight and improve health.
The 32 million people visiting their blog every month tell us that their editorial content is top-notch: their team is passionate about good health and great information.
Here are some excellent business blogging examples from the LiveStrong blog:
Whole-grain foods have a host of benefits. But the claims marketed on the front of many food products' packages can make it difficult for shoppers to correctly interpret the ingredients. This post offers useful tips on how to sift through all the options and marketing claims to land on a truly, good-for-you whole-grain product.
People with chronic fatigue syndrome have extreme tiredness that doesn't improve with rest. So, instead of actually giving you more energy, exercise may make your fatigue even worse. This blog post does a great job at explaining what chronic fatigue syndrome (CFS) is, how it affects your ability to exercise and offers tips on how to exercise when you are dealing with this problem.
Tips from the LiveStrong blog:
Headlines are the first thing that people see when they go to your blog. Based on what they read, they decide of they leave or continue reading your post. Make sure you know how to write headlines that catch the attention of your audience.
Many of the most engaging headlines on the web contain numbers. Numbers are "brain candy" and LivingStrong knows it. Just look at their blog and you'll see it.  ?
5. Trello
Trello has one goal: helping teams work better together. And their blog is all about that.
As a former management consultant, I can attest to the fact that when you work in a team, project management means less stress and less mess! To put it simply, project management keeps you on track so that your team can focus more energy and attention on what matters most: producing a top-notch project. This post goes through all the steps to take a project from idea to launch, without being overwhelming.
The last year has been all about learning how to work from home, with all its challenges! Everyone knows that a leader's emotions can trickle down to the entire team. In this post, Trello's team covered the topic of "team psychological safety" and offered five specific methods any leader could use to lead with compassion, empathy, and care.
Trello boards help businesses run smoother. This post shows six ways a team (from human resources to IT) can use Trello boards to manage current projects and organize their company's priorities.
Tips from Trello's blog:
Although your blog's main goal is NOT to directly promote your products and services (you should have a sales page/shop page for that), you can find creative ways to talk about them. As long as they will educate, inspire or entertain your audience, you are safe.
6. The Homeworker – online and print magazine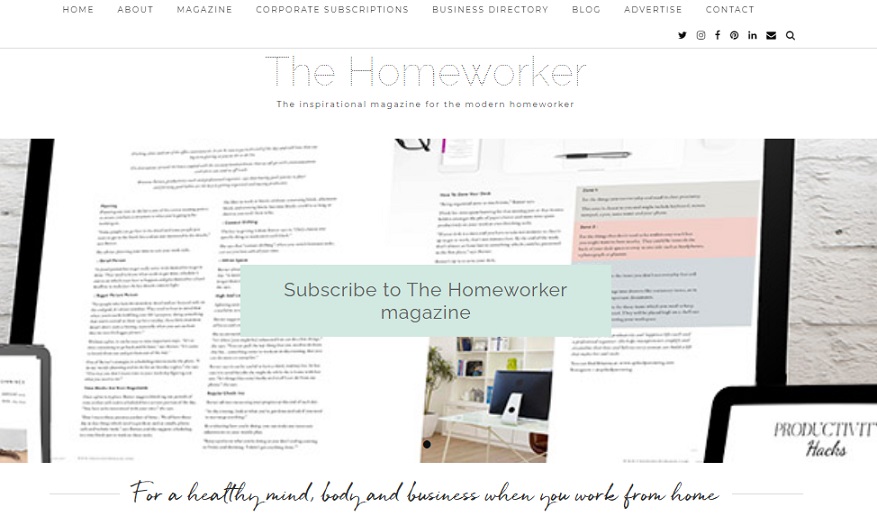 The Homeworker is an inspirational magazine that helps the modern homeworker thrive. In 2020 they got a lot of attention, of course, due to the whole pandemic situation.
Here are a few great blog posts from their blog:
Before Covid-19 and the virus-induced lockdown, working from home was seen as a perk, a desirable benefit. When Coronavirus hit, the number of homeworkers shot up almost overnight. The blog posts analyses how this situation has impacted our work routines and make predictions about the future of work in the years to come.
This post discusses the importance of good ergonomics when working from home and offers good ways to work optimally, beyond choosing the right equipment.
This blog post is an interview with a nutrition expert, but with a "work from home" angle. If you have a home office (it's ok if it also counts as your kitchen table, like in my case!), you probably know how tempting it is to take a short break from a boring task and open the fridge just to see what's in there.
Or maybe that's only me? ? Anyway, I found this blog post to be useful.
Tips from The Homeworker blog:
Invite other people to share their knowledge and tips with your audience, as long as there are not your direct competitors. This is a great way to offer even more value to readers while spending less time creating content.
7. Passion Planner
When Angelia Trinidad faced lots of anxiety after graduating from college in 2012, she decided to create a tool to help her regain control over her life: a paper planner that would help her focus on what really matters. The rest is history: Passion Planner is now a company with a global community of over one million people.
I have been using it for the past year and I love it!
Here are a few great examples from their blog:
Heikala is a well-loved Finland based illustrator and she designed one of the covers for the 2021 Passion Planner collection. In this blog post she talks about her creative process, where she finds inspiration, and how she stays motivated to keep creating.
This article breaks down how to set goals (minus the stress) and presents five types of goals you can create. And while doing so, of course, they use a lot of visuals to showcase how these goals would look like on the Passion Planner.
Having structure, good studying skills and striving to work smart, not hard, will allow you to accomplish goals one step at a time. This blog post is a compilation of back-to-school tips that will help you stay focused and on track with your deadlines.
Tips from the Passion Planner blog:
When it comes to marketing these days, it's all about making an emotional connection with your audience. Use your business blog to show the human side of your brand by putting the spotlight on the people you work with: the owners of the business, an employee, a supplier / a client / a business partner.
8. The Budget Mom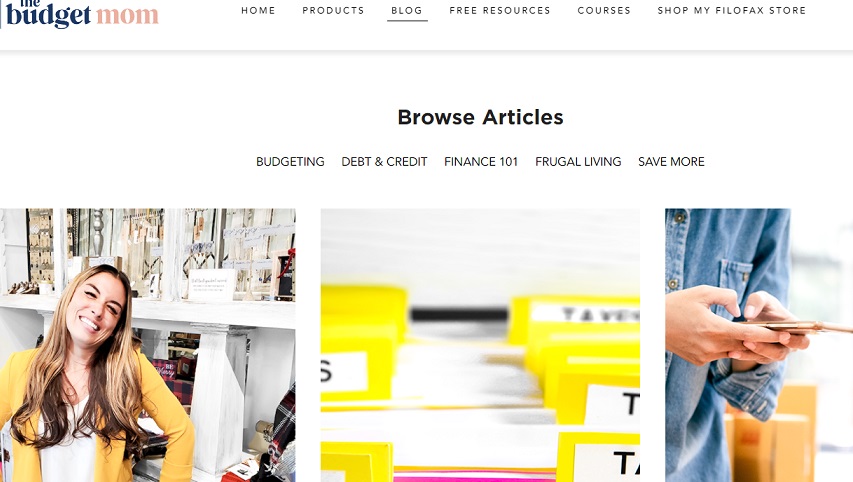 What started as a single mom's personal blog about living a life on a budget she could afford evolved into a popular brand and profitable business. From married financial advisor to a single mom with $77,000 of debt — Kumiko Love has been through it all. Now she uses her own journey of struggle to help others get control of their finances.
Here are a few great posts from Kumikos' blog:
Budgeting is already tight, especially in today's world. By being aware of the different types of bank fees, you can protect your money and achieve your financial goals. This post is a checklist of common bank fees and tips to avoid them.
The idea of budgeting when money is tight can feel overwhelming. But a good budget isn't about restriction or doing without. It's about freedom. This post shows how using a well-planned budget will help you afford the things that matter most to you, no matter how much money you make.
There are many advantages to homeschooling, but unfortunately, it isn't free. And if you have multiple kids, this can add up quickly. This blog post lists seven ways to homeschool your kids on a budget.
Tips from The Budget Mom blog:
Before writing any content (actually, before even starting any business!), you need to know your audience inside out. Get inside their minds and find out what keeps them awake at night, what are their desires and goals. Then create content that helps them achieve those goals, even if that means taking one small step toward a better life.
9. Meet Edgar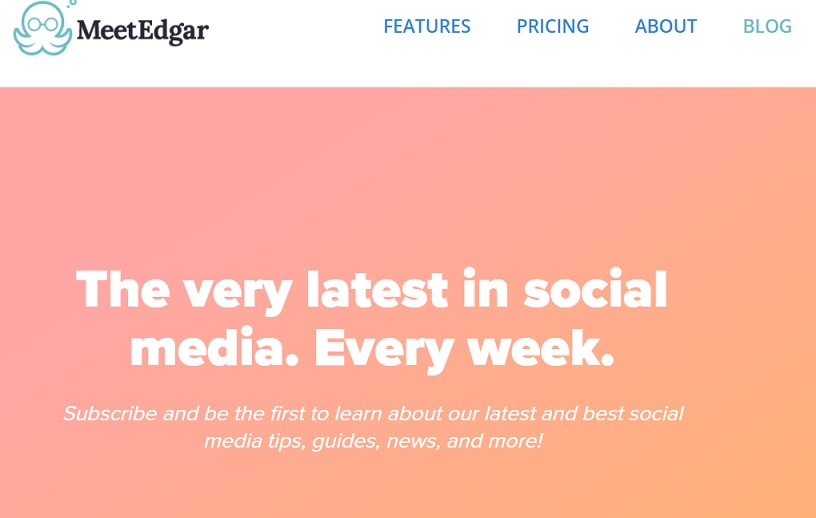 Laura Roeder created Edgar in 2014 so that professionals could manage their social media with more consistency and in less time. Today Edgar, pictured as a funny blue octopus, grew into a popular brand and a multi-million business.
Here are a few articles from their blog that I enjoyed:
With over 322 million monthly active users, Pinterest represents a huge opportunity for building up a recurring revenue stream from affiliate sales of products, programs, and services. In this guide on how to use Pinterest for affiliate marketing, the writer spoke with Pinners who consistently drive traffic to their affiliate links—and get paid for it.
• Pinterest Trends: The Beginner's Guide
Whether you're strapped for content ideas, or you're looking to grab attention from a wider audience on Pinterest, this guide will help.
Unlike most social media sites, Pinterest delivers super valuable insights via numerous charts and metrics. But with so much on offer, it can be overwhelming to know what to look for.This post covers which metrics are important, how to track them, and how to make smarter decisions and achieve your goals for audience growth and traffic acquisition.
Tips from Meet Edgar's blog:
Statistics show that long-form content works best. When people come across a detailed guide that SERIOUSLY helps them, they start to trust the brand/company / expert that wrote it. Long-form content gets you more of what you want: more online visibility (social shares, links), more proof of your authority and industry expertise, and more engagement.
10. Buzzsprout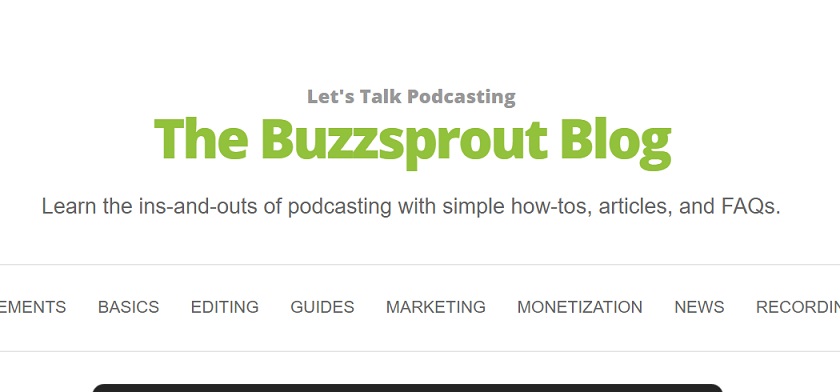 BuzzSprout is a user-friendly podcast hosting company and their blog is about the ins-and-outs of podcasting. Here are a few great examples of business blogging from their team:
The internet is a powerful tool for finding the answers to a lot of podcasting questions, but sometimes your show can benefit more from who you know than what you know. This blog post is a list of podcasting conferences that are worth checking out in 2021.
One of the advantages of podcasts is their ability to produce highly tailored content and attract a highly engaged audience. This guide breaks down how podcast advertising works and show you how to leverage podcast ads for optimal results.
This is a blog post that offers more details on the journey of the company during a specific year: from publishing new features to starting a new social media channel and helping their audience through added-value content.
Tips from the Buzzsprout blog:
Although your blog is not the place to publish announcements and news about the company, if you already have good monthly blog traffic, you can be creative and find ways you can highlight your accomplishments via a blog post (and let more people know about this). Just make sure your blog doesn't turn into a press release platform!
I hope these business blog examples have inspired to start your own and also offered a few useful tips on what kind of content you can publish on it.
And if you think it would be nice to have some help with drafting the entire business blog content strategy for you, I got you covered.
Contact me to see if we are a great fit!